Co-Founder and Director of India's leading pastry learning and baking institute – Lavonne Academy of Baking Science and Pastry Arts, Chef Avin Thaliath shares globally trending gastronomical recipes with Today's Traveler. along with simple quick fixes to whip up at home.
His purpose in life revolves around empowering people with skills. This year, Chef Avin Thaliath is looking forward to a very eventful year ahead, as he will be representing India along with 50 skills in World Skills 2022 which will be held in October in Switzerland. For the past 2 years, these skills have been polishing their expertise with rigorous practice every day.
So here is Today's Traveler with Chef Avin Thaliath's New recipe, Quick fixes for guests, and Super easy items to bake
Chef's New recipe – Edamame Tart
Edamame Tart is a healthy snack filled with the nutritional goodness of Edamame.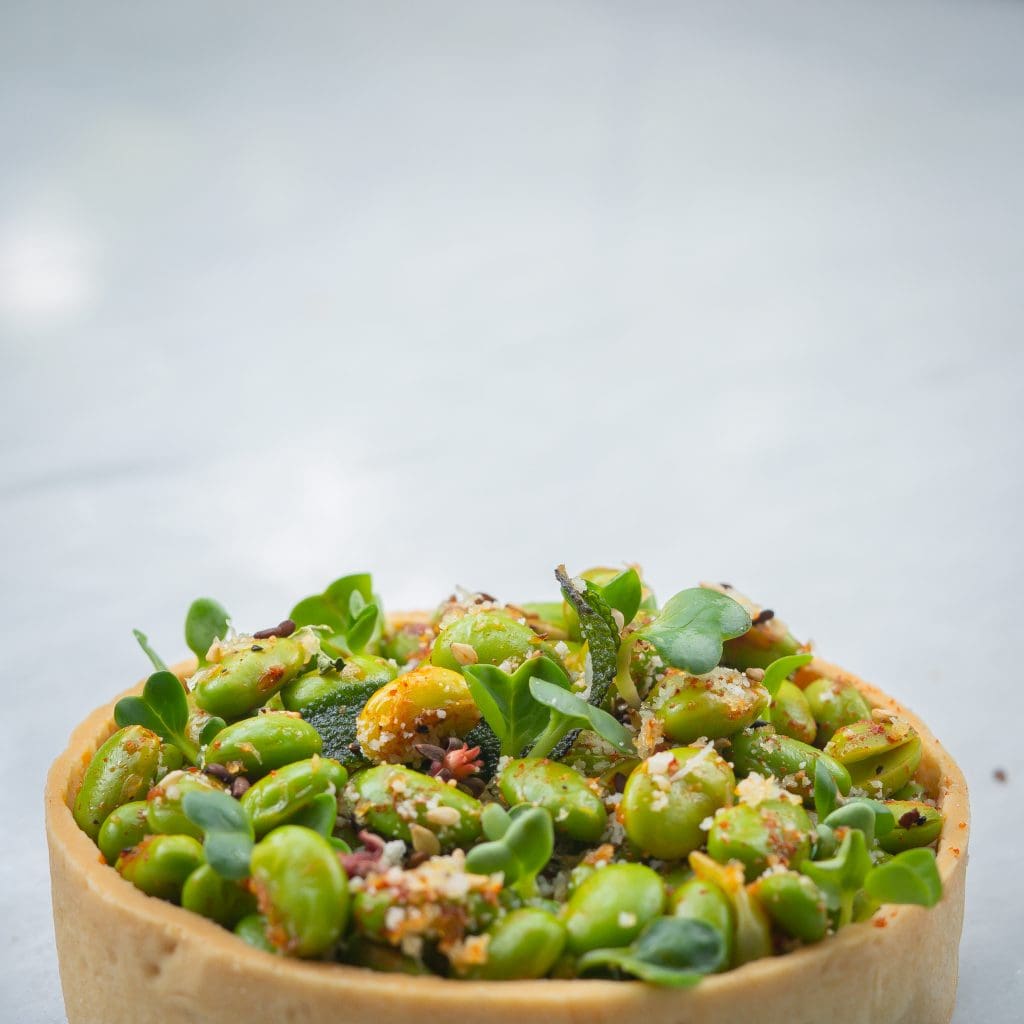 INGREDIENTS
ELEMENT 1: Shortcrust Pastry
Flour – 150 g
Salt – 3g
Icing Sugar – 3 g
Butter(cold) – 75g
Eggs – 1 number
Water – 10 g
Method
Mix butter, flour, icing sugar, and salt to make bread crumb texture.
Add eggs and water to the mixture to make a dough
Chill the dough until use
Line a 3.5" tart ring with the shortcrust pastry
Line the tart ring with parchment paper and fill with baking beans
Bake for about 15 minutes at 170˚C or until the pastry is firm, then remove the beans and cook for about 5 minutes more, until golden brown
Element 2: Bechamel sauce
Milk – 1000 ml
Flour – 100 g
Butter – 100 g
Salt to taste
White Pepper to taste
Nutmeg – a pinch
Method
1. Boil the milk with an onion studded with bay leaf, cloves, and sage leaf
2. Add butter into a stockpot. Add in flour and mix till the raw smell goes away
3. Add in the warm milk. Cook till desired consistency
Element 3: Edamame
Edamame – 120 g
Olive Oil – 25 g
Onions Chopped – 30 g
Salt to taste
Paprika to taste
Black Sesame seeds toasted – 10 g
White Sesame Toasted – 10 g
Panko Crumbs – 50 g
Almond Crumbs – 30 g
Radish Microgreens for garnish
Sage leaf for garnish
Method
1. Bring water to a boil. Add edamame and cook for 5 minutes until they are tender and easily release from their pod.
2. Heat olive oil in a stock pot. Add in chopped onions and sauté
3. Add in the edamame and toss it with salt, paprika, sesame seeds, panko crumbs and almond flakes
Assembly
Place the edamame filling in the baked pastry shell. Garnish with radish microgreens and sage leaves.
Quick Fixes for Guests
RECIPE: Coconut Ice-cream with Mango Chia and Mint Salsa
Coconut Icecream with Mango Chia and Mint Salsa is a simple yet must-serve dessert for the guests. It is hard to say no to this super dessert!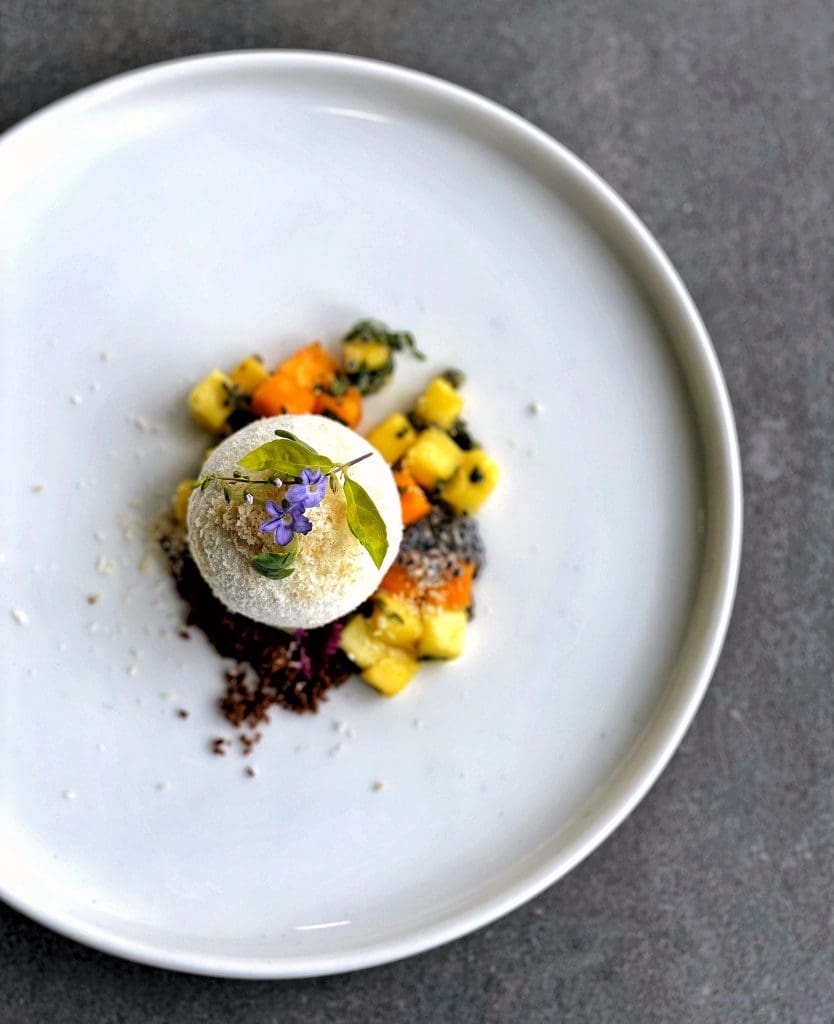 Element 1: Coconut Ice – cream
| | | |
| --- | --- | --- |
| Ingredients | Quantity | Unit |
| Milk | 626 | ml |
| Cream | 438 | ml |
| Glucose | 31 | g |
| Coconut milk powder | 100 | g |
| Stabilizer | 52 | g |
| vanilla | 5 | ml |
| vanilla pods | 2 | No. |
| Yolks | 125 | g |
| Caster sugar | 219 | g |
| TOTAL | 1600 | g |
ingredients for Coconut Icecream
Method:
Heat the milk, coconut milk powder, cream, glucose, and stabilizer mixed with sugar and vanilla essence in a heavy bottom pan.
Mix the yolks with Caster Sugar and temper it using the hot milk mix. Strain and put it back on flame. Scrape the vanilla pods and add the beans and pods.
Cook till the custard reaches 82-85 Deg C. Remove the pods.
Cool this mix quickly to 4 Deg C over an ice bath.
Transfer to an ice cream machine and churn till it reaches desired consistency.
Element 2: Mango Salsa
| | | |
| --- | --- | --- |
| Ingredient | Quantity | Unit |
| Mangoes cubed | 300 | g |
| Basil seeds, soaked | 50 | g |
| Sugar | 10 | g |
| Salt | 1.5 | g |
| Mint leaves | 2 | g |
| Lime juice | 2 | g |
| TOTAL | 365.5 | g |
Ingredients for Mango salsa
Method:
Mix all ingredients together and toss to form a salsa.
Element 3: Cocoa Crumble
| | | |
| --- | --- | --- |
| Ingredient | Quantity | Unit |
| Butter, cold | 100 | g |
| Flour | 80 | g |
| Almond powder | 100 | g |
| Cocoa powder | 20 | g |
| Salt | 2 | g |
| Caster Sugar | 100 | g |
| Total | 402 | g |
Ingredients for Coco Crumble
Method:
Mix all ingredients till you get a bread crumb consistency, freeze till firm and bake at 170 Deg C for 10 to 12 mins.
ASSEMBLY
To assemble, set coconut ice cream in dome molds. Once frozen coat with desiccated coconut. Garnish with microgreens and edible flowers. On the side add some mango salsa, cocoa crumbles, and basil seeds for a mouthful of flavors and textures.
Super easy items to bake – Supreme Veg Quiche in shortcrust dough
Supreme Veg Quiche, is a popular savory shortcrust pastry in French cuisine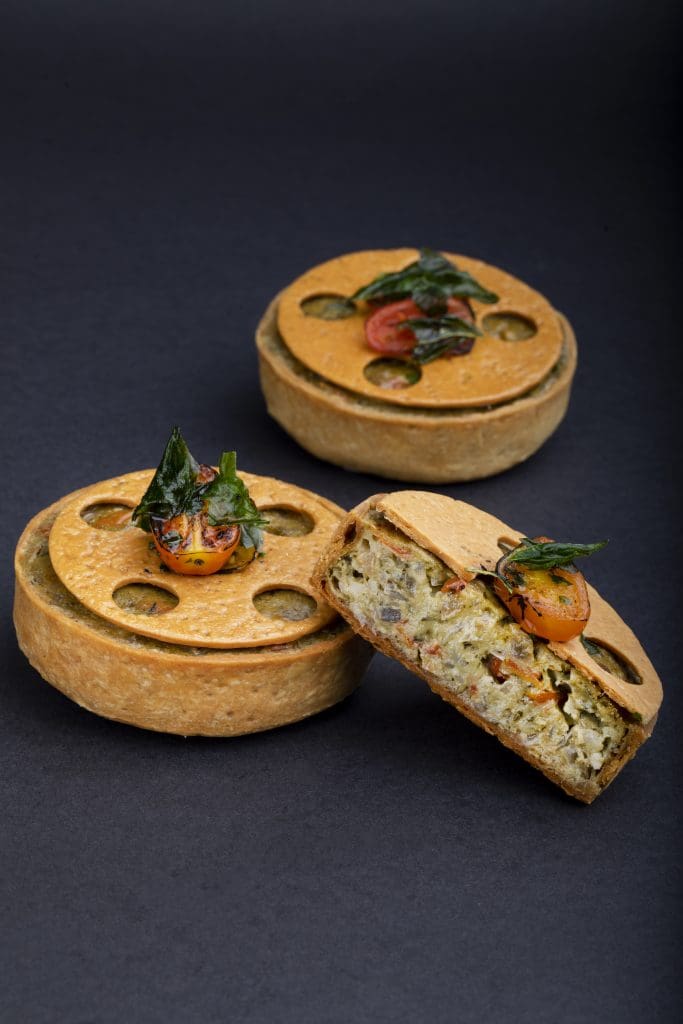 Ingredients:
Flour- 200g
Chilled Butter-90g
Water-70ml
Salt-3g
Method:
Mix flour, butter, salt, and water in a stand mixer, and combine all the ingredients together to form a soft and firm dough. Rest the dough in the freezer for 45mins. Roll out the dough and cut it in a circular shape, rest the dough at room temperature for 20mins. Place the cut dough on a circular quiche mould. Bake it with some beans over it in a preheated oven at 180C until done.
Royal Custard
Fresh cream- 18g
Milk-10g
Eggs-12g
Flour-4g
Cheese-10g
Nutmeg- 1 pinch
Salt- as per taste
Pepper- as per taste
Preparation
In a large bowl add milk, eggs, and flour.
Combine all these together to form a homogeneous mixture.
In the same bowl, add cream, grated cheese, salt, and pepper.
Whisk these ingredients
together very well and keep aside.
Exotic veg filling
Bell Pepper – 40g
Onion- 10g
Leaks-5g
Broccoli- 10g
Mushroom-20g
Mixed Herb- 4g
Garlic- 4g
Oil-6g
Cider vinegar-30ml
Pepper- as per taste
Salt- as per taste
In a pan heat oil, add onion, garlic, and leeks, and sauté it on a low flame for 1 min.
Add bell pepper, broccoli, and mushroom, and cook them well.
Add all the seasoning to the mixture and cook for another min.
Once done, add the vinegar and immediately turn off the flame.
Final baking
Add royal custard to the vegetable mixture and pour the mixture on the baked quiche shells.
Bake it in a preheated oven at 180 degrees C until done.
Hope readers enjoy the wonderful new baking recipe, Quick fixes for guests, and super easy items to bake, Chef Avin so generously shared with us!
Read More: Latest