India recorded 2,927 fresh coronavirus cases in the last 24 hours ending 8 am Wednesday, data shared by the Union Ministry of Health showed. The daily cases are slightly up from Tuesday's 2,483. The total number of active cases also climbed to 16,279 from 15,636. The country registered 32 Covid-related deaths in the last 24 hours.
Very few recombinant variants of corona have been found in India: INSACOG
Based on genome-sequencing analysis, the Indian SARS-COV-2 Genomics Consortia (INSACOG) has said very few recombinant variants of the coronavirus have been found in the country and none of those has shown either increased transmission, locally or otherwise, nor were nor were They are associated with severe disease or hospitalisation.
INSACOG, in its weekly bulletin of April 11 that was released on Wednesday, said the incidences of suspected recombinants closely and the possible public health relevance are being monitored. It said a total of 2,40,570 samples have been sequenced till now.
"Based on genome sequencing analysis, very few recombinant variants have been discovered in India. So far, none showed either increased transmission (locally or otherwise) or was associated with severe disease or hospitalization," it said.
Fauci: 'Pandemic phase' over for US, but COVID-19 is still here
Dr. Anthony Fauci has given an upbeat assessment of the current state of the coronavirus in the United States, saying the country is "out of the pandemic phase" when it comes to new infections, hospitalizations and deaths, but that it appears to be making a transition to COVID-19 becoming an endemic disease — occurring regularly in certain areas.
Fauci, the nation's top infectious disease worst expert, said on the PBS "NewsHour" on Tuesday that the coronavirus remains a pandemic for much of the world, but the threat is not over for the United States, adding that he was speaking about the phase of the pandemic.
"Namely, we don't have 900,000 new infections a day and tens and tens and tens of thousands of hospitalizations and thousands of deaths. We are at a low level right now," he said.
Mask up, follow protocols to stop new COVID-19 wave from entering Maha: CM
After lifting all COVID-19-related restrictions less than a month ago, Maharashtra Chief Minister Uddhav Thackeray on Wednesday appealed to people to use face masks when outdoors and take necessary precautions to restrict a possible fourth wave of the pandemic at the doorstep and prevent it from entering the state.
The CM's appeal came in the backdrop of an uptick in coronavirus cases in the state, especially in Mumbai where more than 100 new cases were reported for the second straight day on Wednesday.
Thackeray's call came after he held a review meeting with divisional commissioners, municipal commissioners, Zilla Parishad CEOs and top police officials in view of the rise in coronavirus cases.
Protest against illegal termination of 'Covid Warriors' at Jantar Mantar
Members of the All India Central Council of Trade Unions (AICCTU) staged a protest over the alleged illegal termination of 'Covid Warriors', the healthcare workers, at Jantar Mantar in New Delhi, Wednesday.
AICCTU members stage a protest at Jantar Mantar in New Delhi, Wednesday (PTI/Ravi Choudhary)
Delhi records 1,367 fresh COVID-19 cases, one fatality
Delhi reported 1,367 fresh COVID-19 cases and one fatality, while the positivity rate stood at 4.50 per cent, according to data shared by the health department here on Wednesday.
It was the sixth consecutive day that the capital recorded over 1,000 new cases in a day. The infection tally in the national capital stands at 18,78,458 and the death toll has reached 26,170, the bulletin stated.
A total of 30,346 COVID-19 tests were conducted in the city on Tuesday, it said. Delhi had reported 1,204 fresh COVID-19 cases and one fatality on Tuesday, while the positivity rate stood at 4.64 per cent. A day before, it saw 1,011 cases with a positivity rate of 6.42 percent and one death.
Delhi reports 1367 new #COVID19 cases, 1042 recoveries and one death in the last 24 hours.

Active cases 4832 pic.twitter.com/0ENTWNje0j

— ANI (@ANI) April 27, 2022
Kerala govt mandates masks in public again; violators to be punished
The Kerala government on Wednesday brought back the face masks mandate in the state, in the wake of surge in COVID-19 cases reported in many other parts of the country.
It also announced that any violation would be punishable under the provisions of the Disaster Management Act and other relevant laws.
Chief Secretary VP Joy in his latest order said the government had recinded all the restrictions imposed under the Disaster Management Act-2005, in connection with the COVID-19 containment activities in the state.
However, after analysing the present coronavirus scenario wearing of masks in all public places, gatherings, work places is made compulsory in the state now, it said.
Violation of the instructions shall be punishable under the provisions of the DM Act and other relevant laws in force. The state government, on April 10, had stopped publishing daily coronavirus figures due to the decline in the number of those affected by the virus in the state.
Malaysia to lift more Covid curbs, eases mask mandate
Malaysia will ease more Covid curbs from the start of next month, including lifting restrictions on those who are not vaccinated against the coronavirus and scrapping the need to wear masks outdoors, its health minister said. The Southeast Asian nation has seen some of the worst Covid outbreaks in the region, but infection surges have since subsided amid a ramped up vaccination programme.
Minister Khairy Jamaluddin said on Wednesday people will now be able to enter public premises regardless of their vaccination status, except those who have tested positive for Covid or unvaccinated travelers undergoing quarantine. Malaysia will also remove pre-flight and on-arrival testing requirements for fully vaccinated travellers and those who have just recovered from Covid, Khairy said.
Vaccinating children our priority, PM Modi tells CMs
Amid a spike in Covid-19 cases across the country, Prime Minister Narendra Modi Wednesday told chief ministers of several states that administering vaccines to every eligible child at the earliest was a priority while stressing the need to ensure Covid-appropriate behavior in public places.
Chairing a Covid-19 review meeting, which was attended by West Bengal CM Mamata Banerjee, Punjab's Bhagwant Mann, Chhattisgarh's Bhupesh Bhagel and others, PM Modi stated, "Despite managing the Covid crisis well as compared to other countries, we can see an uptick in cases in states now. We have to stay alert."
After six days of Covid-19 infections in the national capital remaining stagnant at around 1,000, the numbers increased slightly to 1,204 as per Tuesday's health bulletin. The increase could be owing to more number of tests conducted as the positivity rate, the proportion of samples tested that return positive, remained at 4.64 per cent.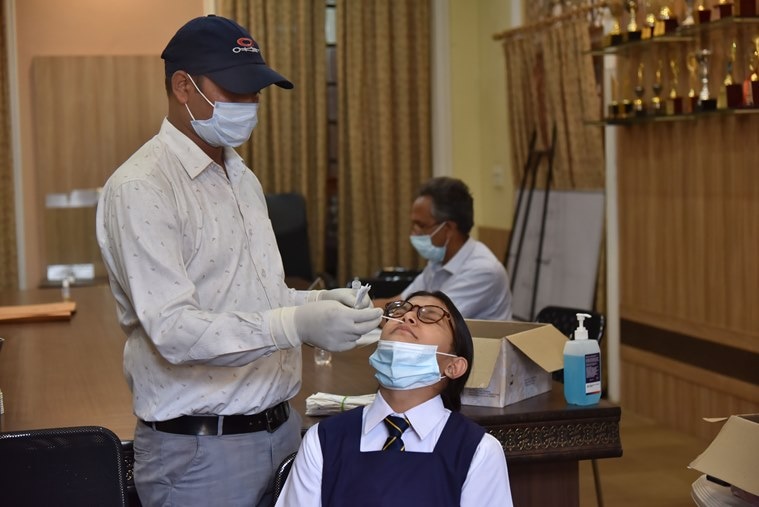 Healthcare workers conduct Covid-19 test at the Girls College after two cases were reported, in Lucknow, Monday, April 25, 2022. (PTI Photo)
Paving the way for the rollout of the Covid-19 vaccination drive for those aged below 12 years, the Drugs Controller General of India (DCGI) on Tuesday granted emergency use authorisation to Bharat Biotech's Covaxin for 6-12 years old and Biological E's Corbevax for the 5-12 age group.
The final decision will be taken by the government's expert body on Covid-19 vaccination, health ministry sources said. Currently, India is only administering Covid-19 vaccines to those above 12 years — Corbevax for 12-14 years and Covaxin for 15-18 years.
China: Beijing sees mass testing amid surge in cases, Shanghai reels under lockdown
China's two major cities are reeling under the surge of coronavirus cases. Beijing Wednesday began a second round of mass testing, news agency Reuters reported. Authorities are focused on early mass testing, while Shanghai, which is currently under strict lockdown, had waited for a month to start testing the residents.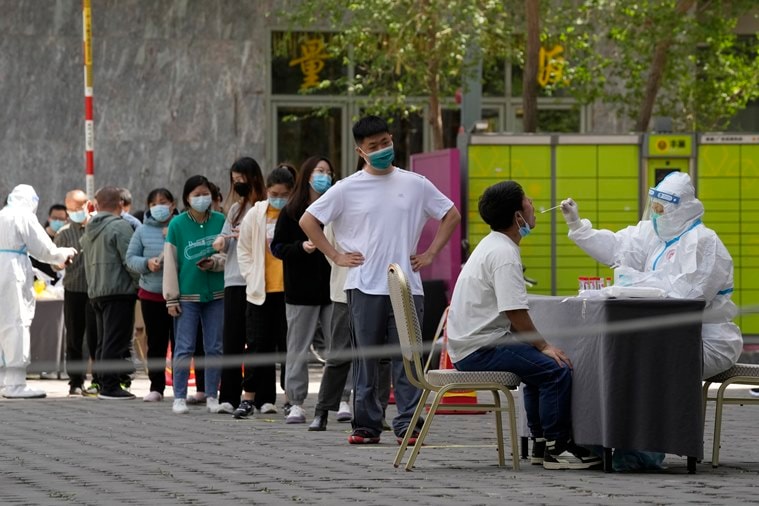 Residents line up for Covid testing outside a hotel in the Haidian district on Tuesday, April 26, 2022, in Beijing. (AP)
Over 3.5 million residents of Beijing's Chaoyang district were screened on Monday, who will now be retested on Wednesday. Other 16 million residents of various districts, who were tested on Tuesday, will be screened on Thursday.
Meanwhile, in Shanghai, the month-long lockdown has led to frustration among the residents, as the city continues to see nearly 12,000 asymptomatic daily cases and over 1,600 symptomatic infections.
(With inputs from agencies)
.