NEW DELHI: The patience was clearly visible in Mumbai's young batsman Yashasvi Jaiswal's batting when he came to the crease in Mumbai's second innings of their Ranji Trophy semi-final clash against Uttar Pradesh. He opened the innings with Prithvi Shaw. Shaw started hammering the bowlers from the word go before departing for a blistering 64 off 71 balls.
At the other end, Yashasvi was leaving every outside off delivery with ease without replying to the sledges from the Uttar Pradesh bowlers and fielders. Watching Yashasvi going into the 'Pujara and Dravid mode' frustrated the UP bowlers.
The left-hander got off the mark off the 54th delivery he faced when he guided Ankit Rajpoot towards square leg for a boundary. He was applauded by his teammates in the dressing room and he smiled and raised his bat.
Yashasvi had a plan to stay in the middle for as long as possible and put valuable runs for the team on the board in the crucial clash. And the 20-year-old did it in style, plundering 181 runs off 372 balls, including 23 boundaries and 1 six.
This also meant back to back centuries in both innings for Yashasvi. The Mumbai batsman became the ninth Mumbai batsman to score a century in both innings for Mumbai in a Ranji Trophy match. Yashasvi, who scored 100 in the first innings and 181 in the second, joined an elite Mumbai cricket list which has the likes of Vinod KamblSachin Tendulkar, Rohit Sharma, Ajinkya Rahane and Wasim Jaffer on it.
TimesofIndia.com Spoke to Yashasvi after the match about his latest experience, as the 20 year old keeps going from strength to strength.
Mumbai, the most successful team in the history of the Ranji Trophy with 41 titles to their name, entered the final after beating Uttar Pradesh in the semis, on the basis of a first innings lead. Mumbai will now face Madhya Pradesh in the final, scheduled to start on June 22 (Wednesday) at the M. Chinnaswamy Stadium in Bengaluru.
Yashasvi, who bagged the Man of the Match award for his spectacular show in the semis, spoke to TimesofIndia.com in an exclusive interview and discussed his stellar knocks, his experience of being in the Rajasthan Royals dressing room in IPL 2022, playing with Jos Butler and much more.
Two great knocks and it's fair to say that you have propelled Mumbai into the Ranji Trophy final…
It is an amazing feeling. I can't express my feelings. I worked so hard for this. I practiced a lot, sweated it out a lot at the nets, watched my old batting videos, and did some corrections. I am more confident now. The semifinal match was a big challenge and I wanted to accept it and deliver in style. I am really happy that I managed to contribute to my team in a big way. I am looking forward to the final now. The Mumbai team is really excited. We all follow the same process. The plan is to fight and win and dominate every session.
You took 54 balls to get off the mark in the second innings, a rare sight even in a long format match. What was the plan?
I just wanted to stay in the middle for as long as possible. That's what my team needed at the moment. With one or two more wickets, the game would have slipped out of our hands. So, patience was the key. I was taking it one ball at a time, giving myself a lot of time to settle in, watching the pitch, analysing it. Once I got off the mark, I shifted gears. I knew a new ball could get me out if I don't leave the ball. They were bowling in good areas. The plan was to leave deliveries outside the off stump and play the deliveries coming into the stumps. I just don't want to leave my team stranded in the middle, I want to be a good finisher for my team.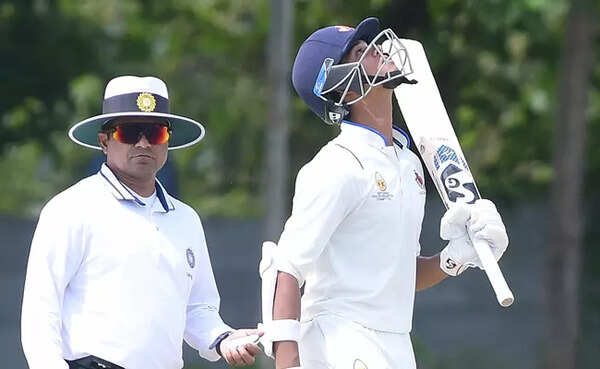 You scored centuries in both innings, a feat achieved by legends like Sachin Tendulkar, Ajinkya Rahane, Rohit Sharma and Wasim Jaffer earlier for Mumbai…
I studied the wicket and realised that it was slow. When Prithvi got out, I discussed the plan with Armaan Jaffer. I wanted to give myself time at the crease because I wanted to stay in the middle for as long as possible. This was my plan. I know it took me a lot of balls to get off the mark, but once I was settled, I started accelerating. I wasn't aware of this record. When I returned to the dressing room, my teammates told me about this. I am honored to see my name with legends like Sachin sir, Wasim sir, Rohit and Ajinkya. I scored fifty, then converted that into 100 and then 150. I am happy that I made a plan and executed it well. I didn't want to give my wicket to the opponent. We had enough time to bat and score as many runs as possible. It was a big game. I spoke with Amol sir (Head Coach Amol Muzumdar) after every session and during the break. He told me one thing 'stay there, take it one ball at a time'. I did the same. Facing 54 balls and not scoring a single run wasn't important for me. For me, the important thing was to stay there, stick to the plan and not lose my wicket. That's what I discussed with Armaan (Jaffer) and we both stuck to the plan. I got a congratulatory message from Daryl Mitchell after my centuries in both innings. He said ' you did really well. Keep going. Don't stop'.
Do you regret not scoring a double hundred?
I think I could have scored more, maybe 200. But that's fine. I am happy with my performance and the team's show in the semis. I am focusing on the final now. I want to carry on the momentum in the big match. I worked hard and worked on certain shots and techniques. With time, I have gained a lot of confidence. I trust my game and abilities.
Rajasthan Royals missed out on winning the IPL 2022 title this time. What was the experience of being in the RR dressing room like this season?
There is something we say at RR that we have to improve and learn everyday. And we will focus on the process, we will work hard and we will take brave decisions and the result will come automatically. And I want to see RR win the title next season. We played amazing cricket this season. Be it Jos (Buttler), (Yuzvendra) Chahal, or anyone else in the team, we all have contributed and worked hard. We fell short of winning the title, but I believe this team will come back stronger next season. This team is very strong. All I want to do personally is to win matches for my team.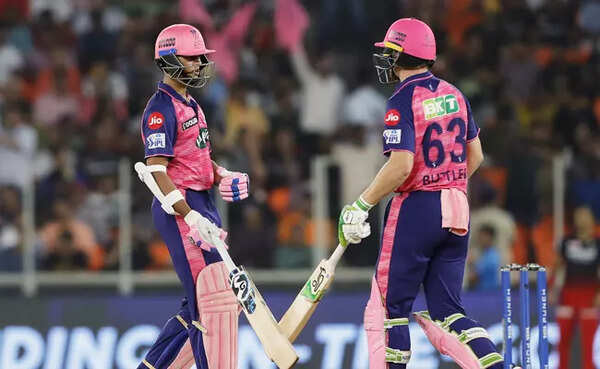 What is it like overall to play for the Rajasthan Royals?
They are my family. They treat me as a member of their family. I have learned a lot there. Sharing the dressing room with players from all around the world, and exchanging knowledge and experience has helped me a lot. They have given me a lot of opportunities. I remember scoring 60 plus runs against Punjab Kings. That innings helped me a lot in gaining confidence.
Jos Buttler has been in ominous form…
Jos (Buttler) is a legend. He is an amazing person. He is a very good human being. I have played a number of games of chess against him and won on all occasions (laughs). He is our star batsman. It is fun to bat with him, share the dressing room with him and talk to him. He knows how to handle pressure. He makes batting look so easy.
You are also a leg spinner. Did you take any bowling tips from Yuzvendra Chahal?
He is a mystery man (laughs). He is also a legend in his department. He has a number of variations. He plays chess very well. I talked to him and have taken bowling tips. He told me that I can be a good all-rounder. I told him that I want to be the world's best all-rounder. I want to be the best in both departments – bowling and batting.
.