NEW DELHI: Long hours of power cuts have added to the woes of the people in this scorching heat that is sweeping through most parts of the country.
India is facing its worst electricity shortage in more than six years and the early onset of summer has pushed up demand to record levels.
In the first 27 days of April, electricity supply fell short of demand by 1.88 billion units, or 1.6 per cent. This is the worst monthly shortfall in over 6 years.
From Jammu and Kashmir to Andhra Pradesh, consumers are facing power cuts ranging from 2 hours to 8 hours.
Factories are the worst hit as the industrial sector is the first port of call for regulating electricity supplies.
States like Rajasthan, Haryana, Andhra Pradesh, Gujarat are witnessing the worst power cuts in more than 6 years.
In October last year as well the country faced a big power crisis. However, the situation this time is far more widespread with more than half of states facing increased power cuts.
All-time high power demand
The peak power demand in the country touched an all-time high of 2,07,111 MW at 2.50pm on Friday, the ministry of power tweeted.
The maximum All India ⚡⚡⚡⚡⚡⚡demand met touched 207111 MW at 14:50hrs today, an all time high so far!@PIB_India… https://t.co/F1g0Hjby8x

— Ministry of Power (@MinOfPower) 1651245302000
In fact, demand for power has peaked record levels on almost every day of this week. He had touched a record level of 204.65 GW on Thursday. On the same day, power shortage to the tune of 10.77 GW was observed.
According to official data, the power demand surpassed supply as there was a deficit of 8.22 GW on April 26.
A statement released by the ministry of power earlier this week said that growth in energy demand has been around 8.9 per cent in March this year.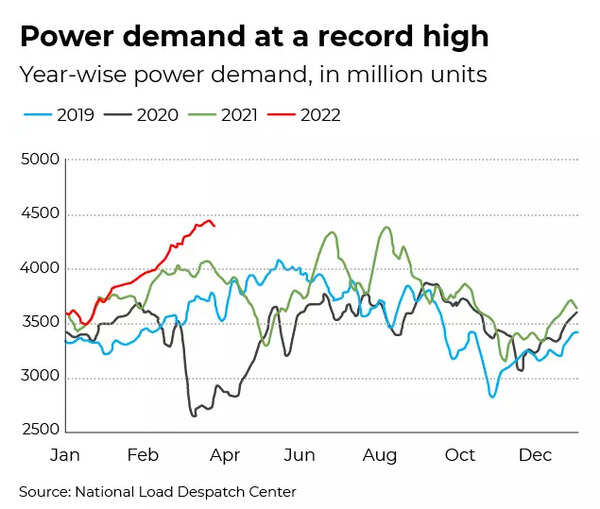 It is also cautioned that demand is expected to reach about 215-220 GW in months of May-June.
"The government and other stakeholders are working together to ensure unhindered power supply and efforts at all fronts are being made and measures are being taken for better utilization of various resources," the ministry assured.
What led to this shortage
Extreme heat conditions in many parts of the country combined with acute coal shortages have triggered blackouts.
March was the hottest month India has to witness in over a century, according to the IMD records.
The heat is so severe that IMD issued an 'Orange' alert for several states in the northwestern part of the country. An alert has also been sounded for other central and western states too, starting Saturday.
On Friday, Delhi recorded its second hottest April in 72 years with a monthly average maximum temperature of 40.2 degrees Celsius.
The national capital experienced three prolonged heatwaves this month in the absence of periodic light rainfall and thundershowers which typify this time of the year due to the lack of active western disturbances.
Prayagraj in UP on April 29 recorded the highest maximum temperature of 46.8 degrees Celsius
Significant Weather Features dated 29.04.2022: ♦ Heat wave conditions: in some parts over West Rajasthan during 29… https://t.co/YGKLhos5Lc

— India Meteorological Department (@Indiametdept) 1651218464000
Heatwaves have intensified in other parts of the country as well.
Maximum Temperature dated 04-29-2022 https://t.co/bYMLfUZtCZ

— India Meteorological Department (@Indiametdept) 1651241887000
Accordingly, the scorching heat conditions have pushed up power demand by households, industries alike. With office spaces, factories resuming in full force as Covid cases remain low, demand for electricity has spiked.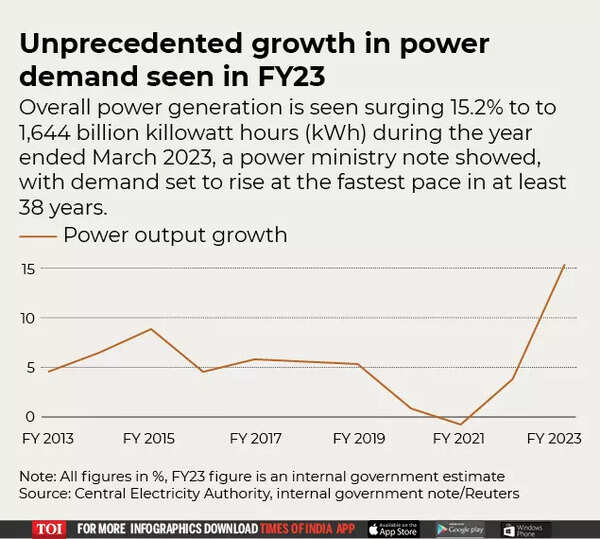 Besides, households' demand for power has also jumped. Coolers and air conditioners have become necessity goods rather than an item of luxury.
This has put added burden on the power plants, which are now trying to deal with severe shortage of coal rakes.
Hence, at the heart of this power shortage is low coal inventory.
Coal crisis looms again
The reduced availability of railway rakes to transport coal has led to coal inventories being at the lowest pre-summer levels in at least 9 years.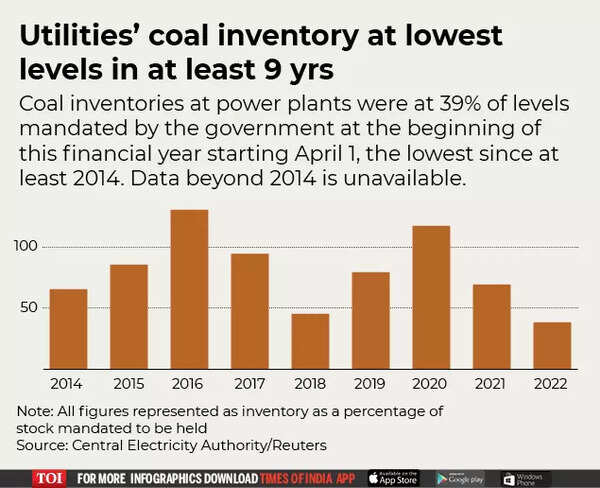 In other words, shortage of trains to transport coal is exacerbating a fuel supply crisis. Earlier this week, power secretary Alok Kumar said that train availability was 6 per cent lower than required.
"Railways was supplying 390 trains per day on an average, 14 per cent lower than demand and 6 per cent lower than the railway's own commitment," he said.
Coal accounts for nearly 75 per cent of India's power generation and power plants account for over three-fourths of the over one billion tons of annual coal consumption.
Hence, a shortage in coal stocks adversely impacts all related operations.
According to data given by the Central Electricity Authority on Friday, out of 108 power plants in India 88 of them that are based on domestic coal had critical stock levels.
While 12 power plants which depend on imported coal reported low coal inventory. At present, there are 8 non-operational power plants in the country.
Data shows how firms with critical stock levels increase with the decrease in inventory. In a span of 1 month, companies with low inventory jumped from 78 in March to 108 on April 28.
As said above, this crisis seems to be worse than the October one since it has impacted far more number of power than plants before.
The All India Power Engineers Federation (AIPEF) claimed that lack of coordination amongst ministries of coal, railways and power is responsible for coal shortage which has caused power outages.
Essential services at risk?
The Dedicated Freight Corridor Corporation of India told ANI that coal received from imports is being pushed to priority sectors at a fast pace.
Amid the rising heat and an acute shortage of coal, the Delhi government on Friday warning of power supply disruption to critical like metro trains and hospitals.
State power minister Satyendra Jain wrote to the Center requesting it to ensure adequate coal availability to power plants that supply electricity to the national capital.
He that warning supply disruption may affect essential services like the metro and hospitals.
The spike in coal requirement has also forced Indian Railways to cancel around 16 mail/express and passenger trains daily to create extra paths for rakes, so that they can be used in power plants across the country.
The railway ministry has notified the cancellation of nearly 670 trips of passenger trains till May 24. Over 500 of these trips are for long-distance mail and express trains.
How are people, industries coping
According to Reuters, people in Odisha have set up stalls at prominent public places to offer water to those passing by. The state faced an acute shortage of electricity in mid April following breakdown of one unit of NTPC which used to generate 800 MW.
The West Bengal government has announced summer school breaks from next week, days ahead of the schedule.
Health officials in Gujarat have made arrangements to tackle a potential spike in patients.
"We have issued an advisory to hospitals to set up special wards for heat stroke and other heat-related diseases due to the rise in temperatures," Gujarat's health secretary Manoj Aggarwal told Reuters.
Meanwhile, Rajasthan has scheduled 4 hours of power cuts for factories, making it at least the third state to disrupt industrial activity to manage surging power demand.
Gujarat and Andhra Pradesh have restricted industrial activity as household air conditioning demand peaked.
In Tamil Nadu, matchbox factories in cities such as Virudhunagar, Tenkasi and Tuticorin faced several hours of power failure.
Bihar too is witnessing frequent power cuts in rural as well as urban areas.
Goa government procured additional 120 MW power from the open market to avert load shedding while Chhattisgarh has no shortage of power.
Relief in sight?
Well, it seems to be up to the weather gods again.
As per IMD, after May 2 there is a likelihood of a drop in temperature with the advancing western disturbance which is predicted to bring rain and thunderstorms.
If that happens it would bring some much needed relief from the sweltering heat, thereby bringing down power demand to some extent.
Coal Minister Pralhad Joshi assured that companies have around 73 million tons of stock at their end while the thermal power plants have stock of 21.5 million tons.
Emphasizing that there is "no need to panic", Joshi assured that the Central government is monitoring the situation.
The government has urged states to step up coal imports for the next three years to build up inventories and satisfy demand. This might prove to be beneficial for firms in the long run and help them avert a third such crisis.
Even though high global prices of coal will strain the debt-laden utilities of states and add to their financial difficulties, higher coal imports could benefit miners such as Indonesia's Adaro Energy, Australia's Whitehaven Coal, and India's biggest coal trader Adani Enterprises.
State-run Coal India, which accounts for 80 per cent of India's coal output, increased production by 27.2 per cent in April.
It produced 49.6 million tons of coal till April 28 and was expected to produce around 53 million tons in the entire month, which is expected to be the best ever compared to earlier years of the comparable month, sources told PTI.
Thus, a ramping up of production capacity can prove to be a major boon for the people.
(With inputs from agencies)
.