NEW DELHI: Assam is reeling under floods, with heavy rainfall and landslides affecting lives in many districts.
The flood situation in the state deteriorated with the number of affected increasing to 6.62 lakh in 27 districts and the toll rising to nine with one more person losing his life in Darrang district.
Here are the top developments:
Flood condition aggravation
Assam State Disaster Management Authority said that at present 1413 villages are under water and Nagaon is the worst hit district where 2.88 lakh people are reeling under the calamity. In Cachar nearly 1.2 lakh people and in Hojai more than 1.07 lakh people were affected.
The other affected districts are Bajali, Baksa, Barpeta, Biswanath, Bongaigaon, Charideo, Darrang, Dhemaji, Dibrugarh, Dima Hasao, Goalpara, Hailakandi, Kamrup, Kamrup Metropolitan, Karbi Anglong West, Karimganj, Kokrajhar, Lakhimpur, Majuli, Nalbari Moriga , Sonitpur, Tamulpur and Udalguri.
Rescue operations on
Authorities are running 248 relief camps and distribution centers in 14 districts, where 48,304 people, including 6,911 children, have taken refuge.
They have distributed 2,264.22 quintals of rice, dal and salt, 5,977.48 liters of mustard oil, 2,393.84 quintals of cattle feed and other flood relief items. it said.
A bulletin stated that the Army, paramilitary force, NDRF, SDRF, civil administration, trained volunteers, fire and emergency services and local people have evacuated 8,066 persons from various flood-hit parts of the state by deploying boats and helicopters.
Indian Army evacuates people during flood relief operations after heavy rainfall in Hojai district
Fresh landslides have taken place in Hailakandi and the devastated Dima Hasao district, where the local administration has set up many relief camps for the affected people.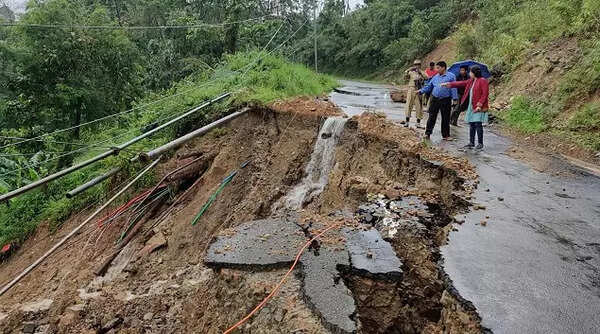 People inspect the area of ​​a landslide after heavy rainfall in Dima Hasao district
Embankments roads, bridges and other infrastructure have been damaged by flood waters in Biswanath, Barpeta, Goalpara, Nagaon, Nalbari, Tamulpur, Bajali, Cachar, Darrang, Dhemaji, Lakhimpur, Morigaon, Sonitpur, Udalguri, Dibrugarh and Kamrup.
Meanwhile, Kopili river is flowing above the danger marks at Dharamtul and Kampur, and Disang at Nanglamuraghat.
Training suspended
In view of the damages to railway tracks in multiple locations, the Northeast Frontier Railway (NFR) has already suspended all trains through Lumding-Badarpur Hill Section to Barak Valley, Tripura, Mizoram and Manipur, and restoration work is on in the damaged areas.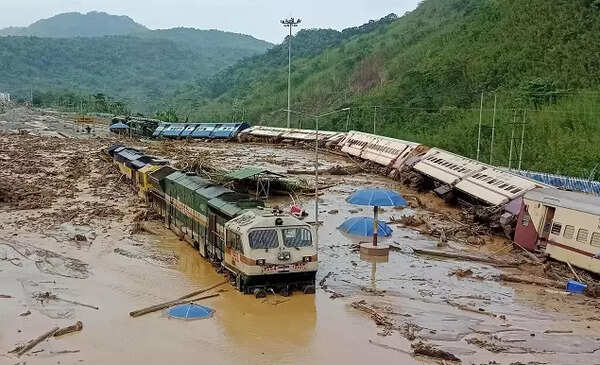 Fresh landslides in Arunachal Pradesh
In neighboring Arunachal Pradesh the incessant rain over the last couple of days triggered landslides and flood-like situations in several districts.
So far four people have died in Itanagar due to landslides while the body of three others, including a buried woman under one on Sunday night is yet to be recovered despite efforts, a police official said.
Torrential rains has led to flooding by Lohit river and its tributaries in Lohit district and is threatening areas like Machuwa camp, Tezu Khola, Jhalukbari and 32 miles, the officials said.
Fuel stocks in Tripura deplete
Meanwhile, Tripura, which is facing depleting stocks as railway services to the state has been snapped due to the devastating transport flood in Assam, may essential commodities through Bangladesh's Chittagong.
"There has been no confirmation over the restoration of train service through Lumding-Badarpur section in Assam and disruption in train service for a long period will have an adverse impact on the supply of essential items in Tripura. That is why we are planning to bring essentials by using an alternative way – the Haldia- Chittagong-Akhaura-Agartala transshipment route to transport essential items on an emergency basis," L Darlong, the principal secretary in Tripura transport department said.
He said the state's stock of petrol will only last for eight days and diesel for five, which is a matter of concern.
More than 2.88 lakh people affected in Assam's Nagaon
The Assam State Disaster Management Authority (ASDMA) informed that more than 2.88 lakh people of the district (Nagaon) have been affected due to the first wave of flood and 147 villages under three revenue circles are currently under water.
As per the reports, thousand of people of Borkola and Dakhinpaat area under Raha and Nagaon revenue circle respectively have been rendered homeless after the flood water entered their homes, compelling them to move to safer places.
As per the data, currently, 9,742.57 hectares of cropland in the district is under water.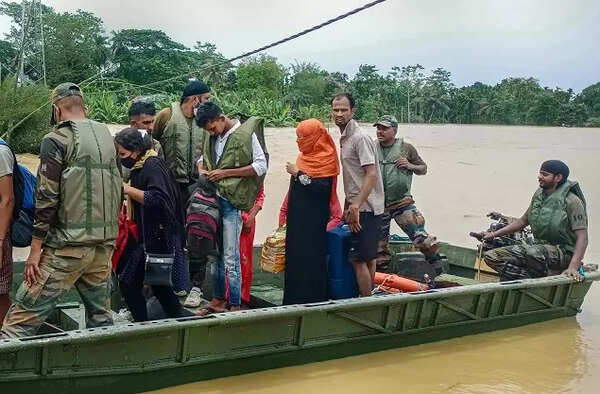 Army personnel shift flood-affected villagers to safe place, in Hojai district of Assam.
Such situations have arisen in Assam as a result of the incessant rainfall that increased the water level of Kopili river, thus increasing the state's condition with increased water levels that submerged new areas.
The water level of the river has already crossed its highest water level mark and thus inundated new areas of the district.
The water has also submerged several roads connecting Kampur area.
Around 40 highlands constructed for providing shelter to animals
The Assam Forest Department has built around 40 highlands for providing shelter to animals due to the ongoing floods in the Kaziranga National Park and Tiger Reserve (KNPTR) and other National Parks and wildlife sanctuaries of the state.
Minister for Environment and Forest, Parimal Suklabaidya said on Wednesday that his department is in a complete state of preparedness to rescue animals from the onslaught of ongoing floods in Kaziranga and other National Parks and wildlife sanctuaries.
DIPA seeks timely measures for smooth telecom operations
Digital Infrastructure Providers Association (DIPA) has written to the Chief Secretary of Assam seeking timely measures to ensure smooth telecom operations and connectivity, as well as safety of employees in the wake of flood situation in the northeastern state.
In a letter to Jishnu Barua, Chief Secretary, Government of Assam, DIPA – the apex industry body of telecom infrastructure providers – urged for timely support and intervention to contain the effect of a flood situation on telecom services.
In order to ensure smooth telecom operations and around-the-clock connectivity during the prevailing heavy downpour and floods in the state, DIPA has pushed for unrestricted access for telecom personnel to the network sites.
It is also seeking smooth availability of diesel for telecom towers, availability of power, cell on wheels deployment and contact details of dedicated nodal officers from electricity department/power distribution companies, Home (Police), petroleum who can be contacted for support on telecom infrastructure issues during this period.
Over 6.62 lakh people affected
Earlier on Wednesday, a report of the Assam State Disaster Management Authority revealed that more than 6.62 lakh people in 27 districts of Assam have been affected by the current spell of floods in the state.
As per the report, 2.88 lakh people were affected alone in Nagaon district followed by 1.19 people affected in Cachar, 1.07 lakh in Hojai, 60562 in Darrang, 27282 in Biswanath, 19755 in Udalguri district.
"1413 villages under 70 revenue circles were affected in this wave of flood and floodwaters submerged 46160.43 hectares of cropland," the report stated.
(With agency inputs)
.