NEW DELHI: There were tears of joy when actor-cum-filmmaker R Madhavan's son Vedaant Madhavan added a second medal to his kitty – a gold medal in the men's 800m freestyle at the Danish Open in Copenhagen recently. He immediately rushed to his room, after the medal ceremony, and did a video call with his parents. Vedaant's father was elated but couldn't control his emotions after seeing the gold medal around his son's neck.
The 16-year-old Vedaant clocked 8:17.28, his personal best, to claim the top honors. He edged past local lad Alexander L Bjorn by 0.10 to clinch the top position on the podium.
Vedaant's gold medal finish was applauded by all and is a great sign for Indian swimming in the long run. Though Vedaant and Indian swimming both still have a long way to go.
Swimming is a sport in which Indian swimmers have not managed to establish world domination. Qualifying for the Olympics in itself is seen as a huge achievement. Talented swimmers like Vedaant are the hope for a better, brighter future of Indian swimming overall.
USA swimmer Robert Finke won the gold at the Tokyo Olympics in the 800m freestyle event with a timing of 7:41.87. For a quick recap, Vedant's timing, in his gold medal winning swim in the 800m freestyle in the Danish Open was 8:17.28.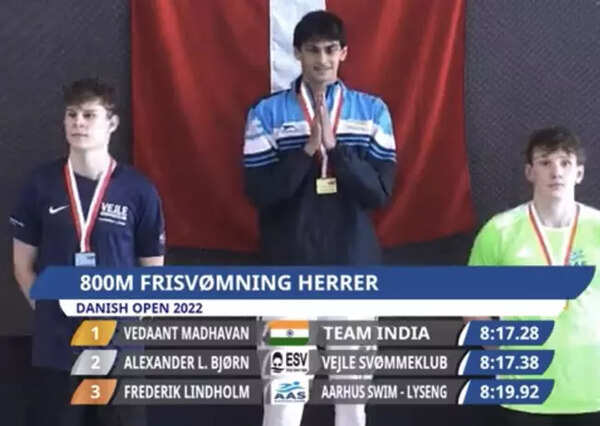 At the Tokyo Olympics, a total of 33 swimmers from 28 nations took part in the men's 800m freestyle heats. Vuk Celic of Serbia, who finished 33rd and failed to make it to the finals, clocked 8:04.85.
Vedaant and other talented swimmers from India have their task cut out.
After a spectacular show at the Danish Open, Vedaant has now set his eyes on Paris 2024 and the Indian swimmer dreams of becoming the first-ever Indian Olympic gold medallist in swimming.
TimesofIndia.com caught up with Vedaant in for a special interview to talk about his gold medal finish, Olympic dreams, meeting his idol Michael Phelps and much more…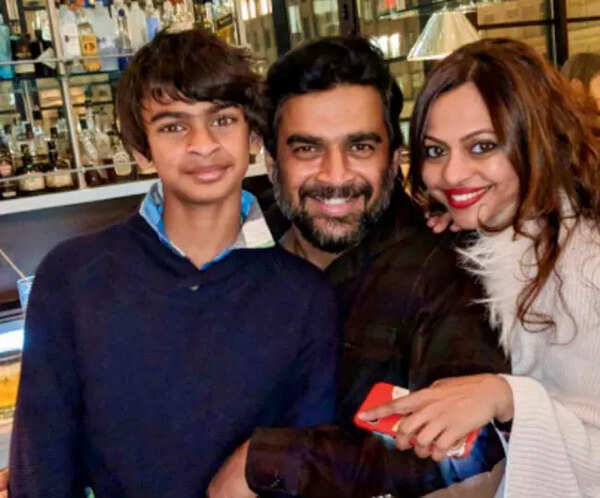 You signed off the Danish Open in style winning a gold and a silver medal. How would you describe your performance?
I put in a lot of time and effort. I am really happy to achieve this achievement. I would like to thank everyone who supported me. Be it my coach, my mom, my dad, my dietician, everyone behind the scenes. Without them it wouldn't be possible. I want to thank the Swimming Federation of India. They are the ones who sent me there.
What next for Vedaant?
There are some competitions. I will have to sit down with my coach and decide which ones I have to go to and which one I don't have to go to. The main goal will be the junior nationals which are in July. That will be the main target. On the basis of the performance (in Jr Nationals), I will be selected for the FINA junior world games and world school games.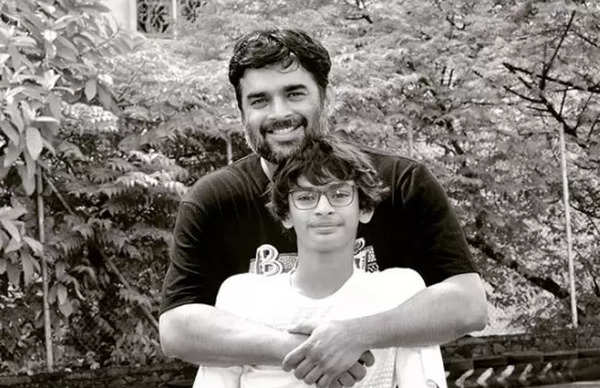 Do you have the Olympics on your mind?
My main goal and target is the Olympics. In the junior nationals, depending on my performance, I will be selected for the Asian Games. Commonwealth Games will be happening before the Nationals. So, I don't think I would be selected for CWG. But the performance in Junior Nationals will decide my fate for Asian Games and FINA Juniors.
Last year, when Sajan (Prakash) and Srihari (Nataraj) made the Olympic 'A' cut, it gave the young swimmers and new generations a lot of hope. My main goal is to appear in the Olympics. My main goal is the 2024 Olympics. I believe that I will be there someday. My main goal is to win a gold medal in the Olympics.
What inspired you to take up swimming?
Four years ago, I was swimming with my school team. There were some national level swimmers in that team. I used to swim with them. I always used to see them swim and observe them. One day, we had a competition against other schools and the coach decided to put me in that relay. And that moment I realised I can keep up with them. They were three years older than me. I was keeping up with them and I was having a lot of fun. After that I started going competitively. I joined a competitive club. That's how it began.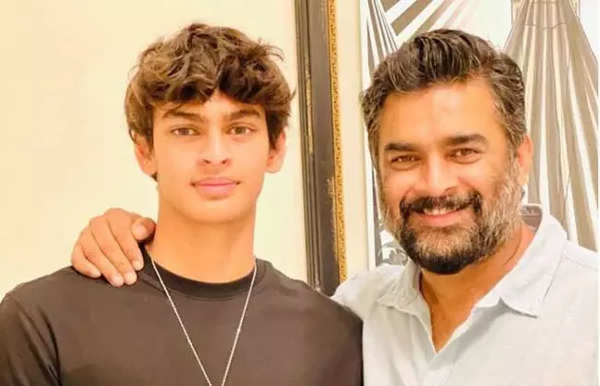 What was the support from your parents like?
They supported me throughout. They knew I really enjoyed swimming. I am really happy that I got such support. I wouldn't have been here without their support. Swimming started as a hobby for me. I became more and more serious with time. I still enjoy the sport very much. Throughout the process, my parents didn't question any of my actions and kept on supporting me. My dad supported me a lot. He travels a lot. He calls me from where he is, supports me, and motivates me ahead of any heat. He prays for me. That's the kind of support I get from him. When he is with me, he takes me to train, has dinner with me, and has proper talks with me. That's the kind of mental and physical support an athlete needs and I am so privileged that I get such support from my father.
What was the reaction of your parents after you won your medals?
My dad was literally in tears. He was so happy. Both mom and dad were so happy and proud of me. The number of sacrifices they made to help me reach this level finally paid off. There was complete joy. After some time, we started discussing the next event.
Who is your inspiration and why?
My inspiration is Michael Phelps. He is the best swimmer of all time. But I also look up to a lot of Indian swimmers. Sajan Prakash, Kushagra Rawat, Srihari Nataraj. Srihari has an amazing mindset. My main idol is Michael Phelps.
Have you ever considered taking up acting as a profession?
As a kid, I was always fascinated with acting. Acting is such a unique job. Currently, I am completely focusedsed on swimming. You can't manage two things at one time. You can be really serious about either acting or swimming. Apart from swimming, I look at some business aspects. I am doing an acting program in school currently. I am also doing a business programme. These two things interest me a lot. I also do a lot of environmental science (projects).
Among dad Madhavan's films, which is your favorite?
My personal favorite is 13B. Another favorite is Rocketry (Rocketry: The Nambi Effect). It is an upcoming movie by my dad. I have seen that movie beforehand. It is an amazing movie. I am really excited about the release.
What was your conversation with Michael Phelps like?
It was me and a group of 10 other kids with Michael Phelps. It was a conference. It was a question-and-answer conference. One important question was about his diet. Apparently, as many articles say, he takes 8,000 calories a day – it is a myth. He told us it's a myth. He eats a lot but not as much as that.
As far as learning is concerned, I would definitely take his mentality and mental power. I asked him about his training schedule. He said he trains as much as we do. He trains about 6 km every session in the morning.
You had said earlier that you don't want to live in your father's shadow…
I don't really like to have the title of R Madhavan's son. I want to make my own name. Whenever I go for training; my competitors respect me for who I am. They don't ask me anything uncomfortable or weird. When it comes to swimming, I am a normal person. It is a contest of the fastest.
.