India's restive North (NE) has witnessed a sharp decline in insurgency-related violence in the past eight years, according to official figures. So much so, the Bharatiya Janata Party (BJP)-ruled Center says it is exploring the possibility of lifting the controversial anti-insurgency law, the Armed Forces (Special Powers) Act, 1958, or AFSPA, from the entire region.
Analysts believe the overall improvement in law and order situation in the strategically-located region could be linked to the Central government's ongoing Naga peace process, aimed at bringing an end to India's oldest insurgency.
However, they stress that the China factor should be watched out for, as some of the NE separatist outfits continue to operate from Myanmar, where Beijing has made deep inroads for long-term strategic goals.
Figure it out
According to the annual report of the ministry of home affairs (MHA), incidents of insurgency in six out of eight northeastern states have reduced by 80 per cent since 2014, while the consequence of security forces went down by 75 per cent and civilian deaths by 99 per cent.
The year 2020 recorded the lowest insurgency incidents and liability among the civilians and security forces in the past two decades. Violence declined by 42 per cent in Arunachal Pradesh, 12 per cent in Assam, 23 per cent in Manipur and 45 per cent in Nagaland compared to 2019, the report said.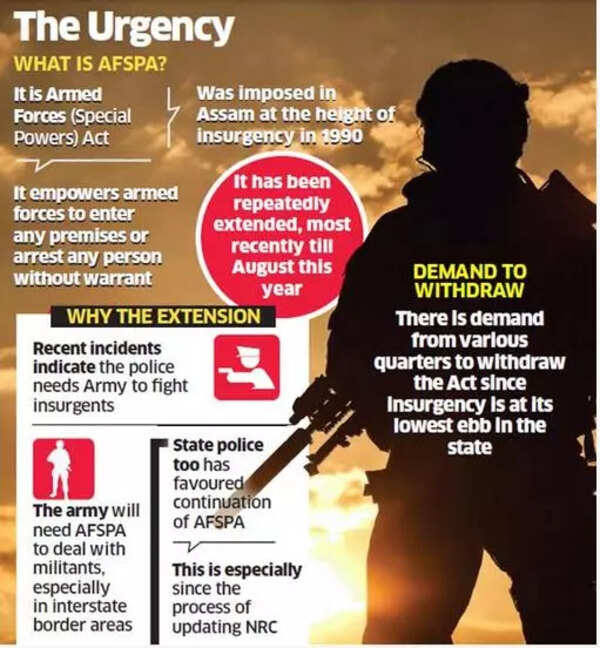 However, amid such a positive look, there are reports of regrouping of rebels in Myanmar where some northeastern separatist outfits, including the United Liberation Front of Asom (Independent) or ULFA (I) led by Paresh Baruah are said to be training new recruits.
Additionally, the ULFA (I) recently killed two alleged "spies", who it claimed, were planted in the organization by security forces, according to a statement reviewed by TOI.
While one faction of the Assamese insurgents led by Arabinda Rajkhowa joined the peace process almost a decade ago, elusive rebel leader Paresh Baruah, who is to be operating from China's southwestern province of Yunnan, has not shown interest in talks.
Decoding China links
A couple of years ago, the Tatmadaw, as the Myanmar Army is known in the country, had destroyed many rebel camps in an exercise codenamed "Operation Sunrise". And the reports of new training camps across the border has raised concerns in the Indian security establishment.
India shares a 1,643-km porous border with the Southeast Asian nation and the rugged terrain makes it easy for the rebels to slip back and forth between their camps and ambush sites on the Indian side of the frontier. The present situation in military-ruled Myanmar seems to be conducive for these rebels to regroup, primarily because the Tatmadaw is busy in tackling a civil war back home and they have no time to operate against Indian insurgents.
Counter-insurgency experts like Brigadier Rumel Dahiya (retired) see a tacit China link to all this. According to Dahiya, who served in the northeast in the past, China is determined to be the next superpower in the world, for which regional supremacy is prerequisite.
"In view of the Ukraine conflict, China has realized that Russia is not a challenge any more, and America's overall position in the world is also weakening. So, China sees an opportunity where it can assert itself more. At the same time, Beijing sees India as a stumbling block in its path to regional as well as global supremacy," said Dahiya, former deputy director-general of the Manohar Parrikar Institute for Defense Studies and Analyses, New Delhi.
With India standing its ground in the border conflict with China in eastern Ladakh, Beijing seems to be desperate to foment trouble for its neighbor, wherever it can. "In my understanding, the ULFA(I) taking a difficult stance is also probably at China's bidding," Dahiya added.
The military veteran had commanded 'Operation Golden Bird' that was launched in April-May 1995. Dozens of NE insurgents were killed and a huge cache of weapons was recovered.
Guwahati-based author and columnist Rajeev Bhattacharyya, who has written extensively on NE insurgency, has a slightly different take.
"The China factor in the northeast insurgency has been overestimated. The policy actively pursued in the 1960s and 70s (when a few batches of Naga, Mizo and Manipuri rebels had gone to China for training) has long been abandoned. That ULFA chief Paresh Baruah has been permitted to stay in Yunnan may not mean that China wants to return to the earlier policy. It doesn't suit China's long-term interests.
"But, in all probability, it would prefer to keep the (NE) secessionist outfits alive in Myanmar. Its interest lies in Myanmar and would like to keep India out of that country by all means," said Bhattacharyya, who has written 'Rendezvous with Rebels: Journey to Meet India's Most Wanted' (Harper Collins) based on his visit to rebel bases in Myanmar.
AFSPA – rhetoric vs reality
India's top leadership, including Prime Minister Narendra Modi, recently said that the government is seriously considering removing the AFSPA from the entire northeast.
An MHA notification announcing partial withdrawal of AFSPA from the northeast became effective on April 1, which means, the law to curb insurgency will remain in force only in parts of Assam, Nagaland, Manipur and Arunachal Pradesh.
Earlier, this was removed from Tripura and Meghalaya in 2015 and 2018, respectively, while Mizoram has been peaceful since the signing of the Mizo Accord in 1986.
The immediate trigger to withdraw the controversial, which gives sweeping powers to the security forces in "disturbed areas", seems to be the December 4 2021 incident in Nagalands Oting (Mon district). Twelve civilians were killed in what was seen as a botched anti-insurgency operation, triggering massive protests in the state where BJP is an ally of the ruling party.
Besides, the National Socialist Council of Nagaland (IM) or NSCN (IM), with whom the Center had signed a "framework agreement", also objected to the continuation of AFSPA in the state. The peace negotiations with the NSCN (IM) have been hanging fire for quite some time due to disagreements over certain demands. Similarly, no headway has been made with regard to Assam's ULFA.
While the move to withdraw AFSPA seems to be aimed at breaking the deadlock in the peace parleys, observers tend to take this with a pinch of salt.
"Definitely, lifting of AFSPA is prerequisite to any effort that is aimed at achieving sustainable peace in the region. However, one wonders if the present dispensation has won the confidence of the general public. Considering the recent political maneuvering with the Oting incident that happened just over four months back, one can't help but be a little pessimistic with the political rhetoric," said K Kokho, assistant professor, Center for North East Studies and Policy Research, Jamia Millia Islamia, New Delhi.
"The Naga National Political Groups or NNPGs (including NSCN-IM) are still irreconcilable; public is divided; and the state government is still far from achieving any semblance of stability to take a firm stance.
"Moreover, the region is still heavily militarised and on the other hand, the non-state armed groups are armed sufficiently. Even though their fighting power may not match with the Indian security forces, (they are) capable enough to cause disruption at any moment if the prospective solution is not inclusive of the key players. This view is largely based on the observation of the situation in Nagaland," Kokho added.
.