NEW DELHI: A few rough seasons with the Kolkata Knight Riders franchise in the IPL, not enough chances in the national team, warming benches, carrying drinks and injury setbacks – Kuldeep Yadav has gone through a lot in the past three years. But the left-arm wrist spinner is back with a bang and is currently second on the list of highest wicket-takers of IPL 2022, with 17 scalps.
Kuldeep, who was part of the Kolkata Knight Riders unit from 2014 to 2021, was released by KKR last year and was bought for Rs. 2 crore (base price) by the Delhi Capitals.
The wrist-spinner was roped in by KKR in 2014 and was handed his debut IPL cap in 2016. He steadily became a key member of the team, especially in the 2017 and 2018 seasons, in which he claimed, a cumulative, 29 wickets ( 12 wickets in 2017 and 17 wickets in 2018). But then came the dip. In 2019 and 2020 combined Kuldeep managed to take just 5 wickets in 13 IPL matches. In 2021, Kuldeep had a major knee surgery that ruled him out of the entire edition.
Kuldeep's childhood coach Kapil Dev Pandey feels KKR failed to handle Kuldeep properly and the Chinaman bowler should be thankful that he was released by the two-time IPL champions. He spoke to TimesofIndia.com recently about this and more.
Kuldeep Yadav (Image credit: BCCI/IPL)
"Kuldeep didn't get many chances in the last three years. Be it Tests, ODIs, T20Is, or IPLs, no one gave him opportunities. KKR didn't show trust in him. They didn't give him many chances. Kuldeep was disappointed, he has been in touch with me. I told him not to lose hope and not to miss any training, nets or practice sessions. Pandey told TimesofIndia.com in an exclusive interview.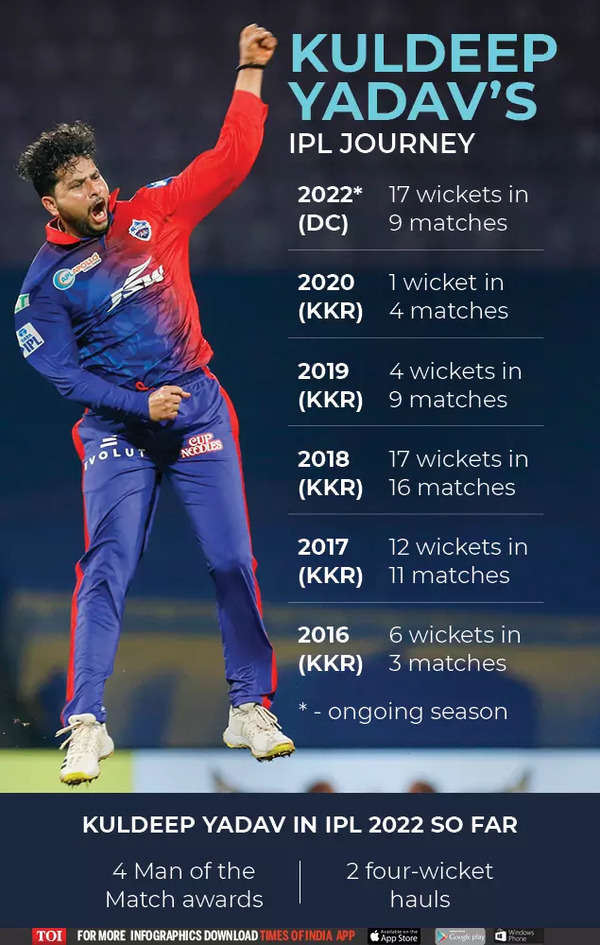 "When he was picked up by DC in the last player auction (for his base price of Rs 2 Cr), I told him not to see the price he was bought for. I just said – 'you have got a wonderful team and set up and will get enough chances to showcase your talent'. He said – 'I just want to perform in the IPL and want to make a comeback to the Indian team in all formats'. Capitals team for giving him enough chances and backing him. KKR did a very good thing by releasing Kuldeep. It worked really well in Kuldeep's favour. If Kuldeep was there for one more season, he would have been severely diminished as a cricketer. KKR retained him for one year and then didn't give him chances, that was quite shocking," Kapil Dev Pandey further told TimesofIndia.com.
'KULDEEP HAS THE FULL SUPPORT OF PANT AND PONTING'
At a 2 crore base price, Kuldeep was definitely a steal for the Delhi franchise. Kuldeep has been on a wicket-taking spree in the tournament, bamboozling batsmen with his various tweaks and variations. There is a sense of maturity now in his bowling. He has featured in all 9 matches that DC have played so far in IPL 2022, taking 17 wickets, including 2 four-wicket hauls. The 27-year-old has also already bagged as many as four Man of the Match awards in this edition.
The stage was set for Kuldeep once he entered a new IPL set-up. What he really needed was someone to motivate and inspire him, on and off the field. MS Dhoni, his former India captain, had done that for him on the field, guiding him from behind the stumps. In DC, Kuldeep found great support from the captain Rishabh Pant and Head coach Ricky Ponting. Pant talking to Kuldeep and planning strategies with him on the field is something we see on a regular basis in DC matches.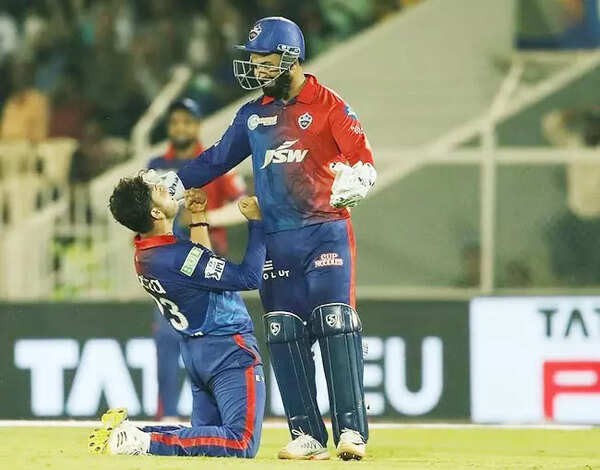 (Image credit: BCCI/IPL)
In Ponting, Kuldeep found a mentor who has shown complete faith in his abilities and guided him to help him find his lost mojo. Ponting recently talked about how what Kuldeep really needed to flourish was a positive environment, love and support – something the former Australian captain feels DC have been able to give the talented left-arm spinner.
Kuldeep is now a couple of short scalps of claiming the pole position in the race for the Purple Cap, where he is behind good friend Yuzvendra Chahal.
Kuldeep's resurgence has been one of the biggest talking points of IPL 2022 and coach Pandey credited mentor Ponting and captain Pant for the 27-year-old's spectacular run with the ball so far this year in the IPL.
"Kuldeep is so thankful to Delhi Capitals for giving him this opportunity. Delhi showed faith in him and Kuldeep is repaying that faith. Kuldeep needs mental support and he got that from (Rishabh) Pant and (Ricky) Ponting. Ponting and Pant have asked Kuldeep to go and express himself in the middle and Kuldeep is doing just that. Pandey further said.
"Kuldeep is taking wickets and has shown the world that the school of thought that he cannot vary his speeds and that he cannot bowl faster deliveries is a wrong one. If you don't give him an opportunity, how will he perform? KKR didn't 't give him many opportunities. long hours. When he was picked by Delhi, he was a different Kuldeep altogether. He just wanted to go and everyone wrong with his bowling. TimesofIndia.com.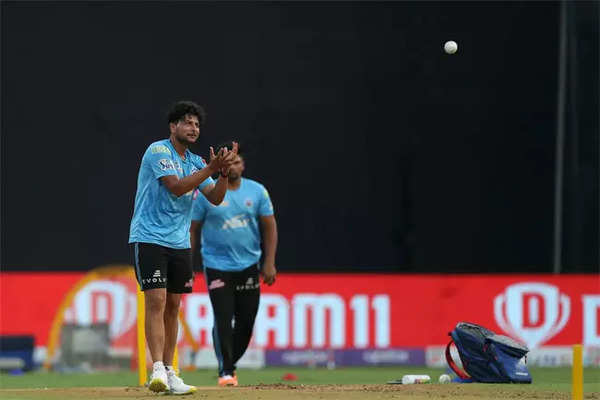 (Image credit: BCCI/IPL)
"Pant is doing what Dhoni used to do with Kuldeep. Pant is guiding Kuldeep the way Dhoni did. Pant has shown a lot of trust in Kuldeep. He is guiding him from behind the stumps, instructing him. Kuldeep and Pant have great coordination on the field. They are on the same page about most things. Kuldeep worked a lot on his lines and lengths. He is not giving room to batsmen now. He is bowling with full confidence. He just does not allow batsmen to score runs and creates more and more pressure. He tried to bowl some flighted deliveries in the tournament and those were played brilliantly by Glenn Maxwell and Jos Buttler. We discussed that plan too. trick," Kuldeep's childhood coach further said.
'ROHIT SHARMA THE MAN BEHIND KULDEEP'S RESURGENCE'
For coach Pandey, the change in Team India captaincy has helped Kuldeep in many ways. Kuldeep returned to the Indian team after a gap of nearly seven months against the West Indies (ODI series) in February this year. Kuldeep has two hat-tricks in international cricket. He achieved the feat against Australia (in 2017) and West Indies (in 2019).
"Whenever captains trusted him, Kuldeep delivered. He has a good record in Tests. He has two hat-tricks in ODIs. He has a good T20I record. But still, he didn't get enough opportunities. This is really shocking. career is protected because of Rohit Sharma. Rohit is the man behind Kuldeep's resurgence. He is a fantastic captain and he knows how to find talent in a big group of players. Ahead of the IPL, Rohit called Kuldeep and gave him the chance (against the West Indies). Kuldeep delivered too by taking two wickets," Pandey said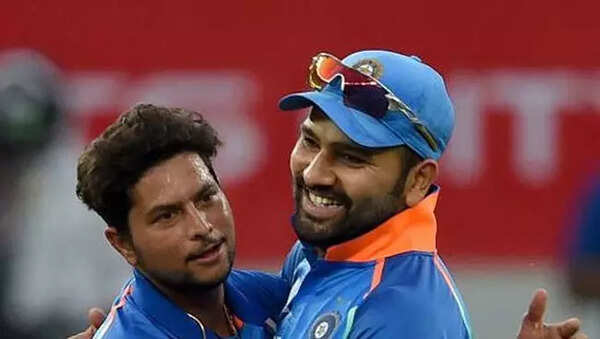 Kuldeep Yadav and Rohit Sharma (Image credit: BCCI)
"Rohit kept a close eye on Kuldeep, his Yo-Yo Test and rehab reports. Rohit was impressed with Kuldeep's rehab programme. Rohit should be credited for Kuldeep's comeback. He wouldn't have been here today without the support of Rohit, Pant and Ponting. Every captain has their own style of captaining and picking players. Kuldeep played a lot of cricket under Virat. Virat wants experience in the side. He went with Ashwin and Jadeja. He preferred Axar ahead of Kuldeep because of Axar's batting capabilities. captain has to trust his players," the coach further told TimesofIndia.com.
THE COMEBACK
Watching his teammates play, celebrate, and take victory laps excited Kuldeep, who was recuperating from an injury. At the same time, he was frustrated and was desperate to make a comeback and get back onto the field.
He was looking for an outlet to vent his anger. He started bowling for long hours. He spoke to his coach and seniors and asked them to oversee his progress.
After one practice session, he would sit at the boundary ropes, drink water, take a few bites of energy bars, and then get ready again for another session in the nets.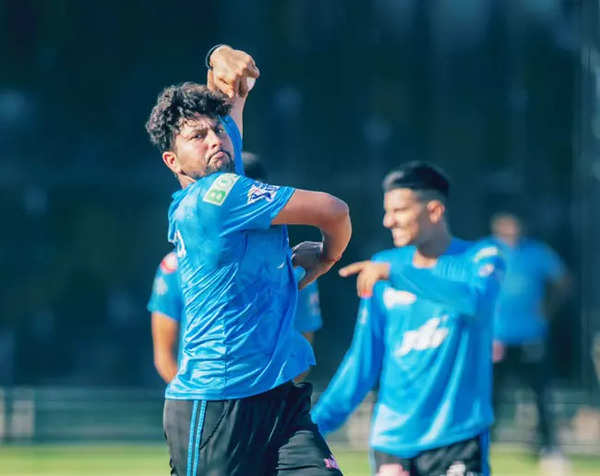 Kuldeep Yadav (Image credit: BCCI/IPL)
"Kuldeep was tense and asked me one thing two years back – 'sir, I put in a lot of hard work, I don't miss a single net session but I am still not getting chances. What should I do? Just wait, your time will come soon'. That's it. I told him to wait for his chance. In hindsight, that phase that he went through gave Kuldeep a lot of maturity and confidence. He is a fearless bowler now. domestic matches and Kanpur league games. He went back to the basics. He has now turned into a fearless and confident bowler," Pandey further told TimesofIndia.com.
A TASTE OF KUL-CHA IN THE NEXT WORLD CUP?
Neither Kuldeep nor Yuzvendra Chahal, the current Purple Cap holder in IPL 2022, were part of India's squad for the ICC T20 World Cup 2021. India were knocked out early in the tournament. The Indian team had banked on the likes of Varun Chakaravarthy and Rahul Chahar.
Pandey feels the two spinners, who are in good form currently – Kuldeep and Chahal – could do wonders for India's T20 World Cup campaign in Australia later this year.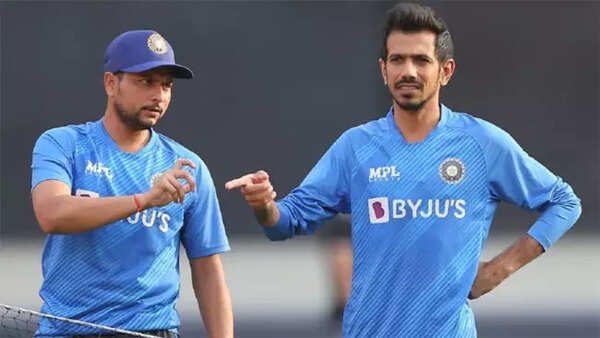 Kuldeep Yadav and Yuzvendra Chahal (BCCI Photo)
"Chahal is dominating with the ball with the Rajasthan Royals and Kuldeep has been on a wicket taking spree for Delhi. Imagine both playing in the same team. India need to bring back the Kuldeep and Chahal pair. They have won matches for India in the past and can play big roles in the upcoming World Cup," Pandey said.
"I was expecting the Kuldeep-Chahal pair to be a part of the previous World Cup too but that didn't happen. Both had decent performances in Sri Lanka at that time. India should have picked these two in the squad. These two bowlers are match winners. India needed these two badly in the World Cup. We lost to Pakistan by 10 wickets. We have seen Chahal and Kuldeep turning matches on their head in the past. , bowl flatter, bamboozle batsmen and show courage," the coach signed off.
.