NEW DELHI: The war in Ukraine has entered its third month with no end in sight to the fighting that has already killed thousands of people and displaced countless families.
In the face of mounting sanctions and fierce Ukrainian resistance bolstered by Western arms, Russia has kept up its long-distance bombardment in the country and opened up a new offensive in the east.
Here's a look at how Europe's biggest war since World War II has unfolded in the last two months …
Shifting goalposts
Since the war began, Russia has constantly shifted its goalposts to fit its narrative and make it easier for President Vladimir Putin to claim a face-saving victory.
Initially, Putin's forces wanted to make easy work of Ukraine by quickly capturing Kyiv and toppling the government of President Volodymyr Zelenskyy.
But a spirited resistance by the Ukrainian forces managed to thwart the Russian advance and keep the capital Kyiv from falling into Putin's hands.
Now, Russia has reframed its war goals and said that it is focusing on liberating the Donbas region of eastern Ukraine, where Russian-backed separatists have been fighting the Ukrainian army for the past eight years.
Last week, a Russian general announced that besides Donbas, which includes the breakaway regions of Donetsk and Luhansk, Moscow also wants full control of southern Ukraine. This would give it access to Transnistria, a breakaway Russian-occupied part of Moldova in the west.
If Russia does succeed, it would successfully cut off Ukraine's entire coastline and push hundreds of miles west beyond current lines, past the major Ukrainian coastal cities of Mykolaiv and Odesa.
Sanctions and resolutions
The Russian action in Ukraine has expectedly invited widespread condemnation from the West, with several countries slapping punitive sanctions on Moscow.
Since February 24, Russia has vaulted past Iran and Syria to become the most sanctioned country in the world.
Russia had over 2,700 sanctions against it before the war. The number has swelled to nearly 10,000 in the last two months.
UK, Switzerland and European Union are leading the global sanction against Russia. At 1,124, UK has announced the most number of punitive sanctions against Russia since February this year.
Besides sanctions, Russia faced flak at the United Nations where multiple resolutions have been passed deploring its invasion of Ukraine.
The UN Security Council, the General Assembly and the Human Rights Council – all have strongly deplored Russian aggression and called for an immediate halt to the fighting.
In the most recent resolution, the UN General Assembly voted to suspend Russia from the world's leading human rights body over allegations that Russian soldiers in Ukraine engaged in rights violations.
India, meanwhile, has abstained from all 10 votes in UN on Ukraine.
India's tightrope walk
Since the beginning of the war, India has remained on the fence over Russia's action and has been disinclined to join the western condemnation of Putin.
Despite pressure from US, India has maintained its neutrality on the issue even as it has condemned certain incidents such as the killings in Ukraine's Bu.
UK PM Boris Johnson, who visited India last week, said that India will not change its stand on Russia as he acknowledged New Delhi's long-standing ties with Moscow.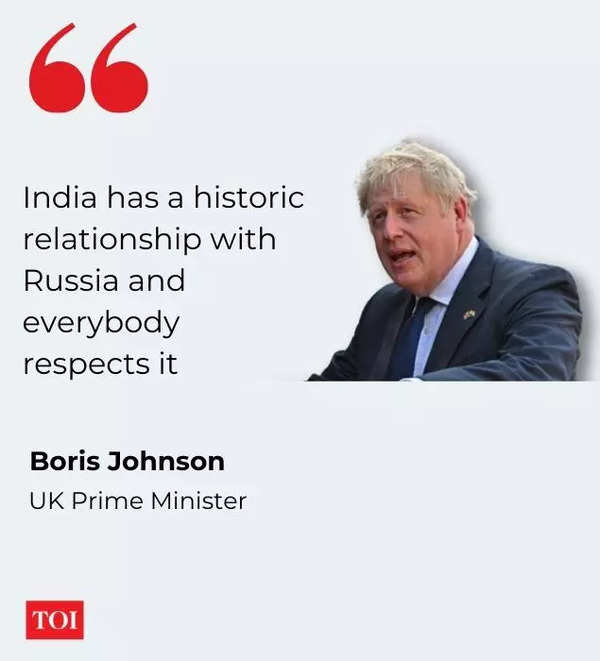 India was an ally of Moscow during the Cold War but has since sought to maintain ties with both Russia and Western nations.
In a recent interview, finance minister Nirmala Sitharaman categorically said that while India wants to be strong friends with the West, it needs Russia's assistance to defend its borders.
India is the world's top buyer of Russian weapons, which it uses to deter aggression from neighbors like Pakistan and China. Between 2016 and 2021, India's imports from Russia accounted for nearly 50% of its global arms purchase.
While India is also looking to buy arms from other nations and ramp up indigenous production, Russia still meets a crucial chunk of India's weapons needs. According to a recent report, India even conveyed to US that the alternatives to Russian weapons were too expensive.
So, while PM Modi has repeatedly spoken with both Putin and Zelenksyy over the war and even urged for an immediate cessation of violence, India has decided not to hurt its long-standing ties with Russia.
Separately, Indian companies have also scooped up cheap Russian oil in the last few weeks despite mounting pressure from US. Last month, state-run Indian Oil Corp bought 3 million barrels of crude from Russia to secure its needs.
According to a report, India is also looking to purchase coal from Russia.
Global rejig
Besides causing a humanitarian crisis in Ukraine, the Russian action in Ukraine has also left the world deeply divided and confused.
Russia is a powerful nation with a permanent seat on the UN Security Council. It has strong military relations with several countries and is one of the top arms exporters in the world.
Besides this, Russia is the top supplier of crude and gas to Europe, meeting a major chunk of the region's energy needs.
Thus, strong western action against Russia has disrupted the global supply chain and made space for new pairs accords.
Germany has halted a major undersea pipeline project which is designed to double the flow of Russian gas direct to Germany.
Many countries, including US, have declared a blanket ban on Russian oil, coal and gas imports. European nations are now looking at ways to further reduce dependence on Russia.
Complicating the crisis further, Putin last month announced plans to have importers pay for Russian natural gas in rubles instead of dollars and euros.
The move could further roil global energy markets by exacerbating current supply disruptions and adding to uncertainty about future supplies.
Arms & ammunition
While Ukraine is no match to Russia's military muscle, it has managed to keep Putin's forces at bay with the help of heavy arms supplied by Western countries.
Since the start of the war, Zelenskyy had been pleading with US and European leaders to supply Kyiv with heavier arms and equipment.
While Europe led the sanctions war against Russia, the US became the biggest donor of finance and weaponry to Ukraine.
From heavy artillery to tactical drones to armored vehicles, US has so far provided $3.4 billion in weapons to Ukraine. These include Howitzers, Javelin missiles, and Switchblade drones.
On Sunday, US pledged new assistance worth $713 million for Zelenskyy's government and other countries in the region fearing Russian aggression. This was on top of President Biden's announcement of $1.6 billion in military aid to Ukraine.
On the other hand, Russia has also been projecting its military might in a warning to Ukraine and the West.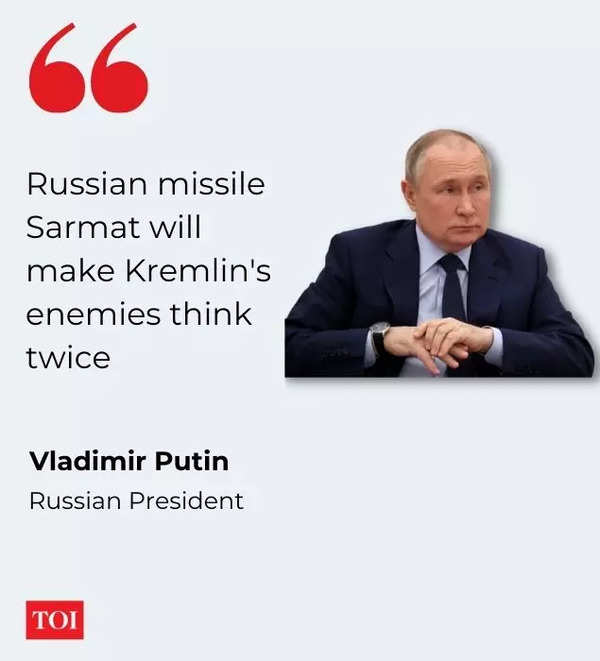 Last week, Russia successfully tested nuclear-capable Sarmat missile, which Putin said can "hit any target on earth". The weapon, capable of carrying nuclear charges, will make Kremlin's enemies "think twice", Putin said.
Meanwhile, in the run up to Moscow's invasion, military spending in Europe and Russia saw a marked surge last year, according to data published by the Stockholm International Peace Research Institute (SIPRI).
Global military spending topped 2 trillion dollars for the first time ever in 2021, reaching $2,113 billion, up 0.7% from 2020, the defense think-tank said.
(With inputs from agencies)
.