NEW DELHI: The FIH Hockey5s event concluded in Lausanne on Sunday. Like scrolling through reels on social media, 22 matches involving seven nations across the men and women sections were wrapped up in just two days.
While the event kept most of the old-school purists away, FIH believes the sport earned some new fans, who parked their cars along the Lac Leman (Lake Geneva) to walk across to Place de la Navigation, a concourse turned into a Hockey5s field .
That's perhaps the idea of ​​Hockey5s. Asking just 20 minutes from fans to watch a complete game in the middle of a city, TikTok style – just watch and scroll.
But the CEO of International Hockey Federation (FIH), Thierry Weil, says the bigger picture is to woo countries who don't play the sport at all — by way of low-cost infrastructure, smaller duration of games, fewer players and minimal -to-no logistical nightmares.
FIH CEO Thierry Weil
Weil spoke to TimesofIndia.com in an exclusive interview about this.
Many, though, strongly contest that the FIH's push for the Hockey 5s will eventually end up replacing 11-a-side hockey at the Olympics.
Is there any truth to that? Weil answers that question and many more in this chat with Timesofindia.com.
Excerpts:
FIH is pretty excited about the Hockey5s. What have you witnessed over the last two days to become more hopeful of its success?
What we have to witness is first of all that the players themselves have really enjoyed and they have also really taken it seriously. They have played fantastic games. This (tournament) is hosted in the center of the city of Lausanne, around the lake. We had a lot of people who had never seen hockey, who stopped for half an hour to an hour to watch the games, to celebrate, to be part of that. We have a lot of positive feedback from people who have never seen hockey before. They say it's nice. We did sport initiation for kids so that they can try. This in its own is a really fantastic promotion for our sport.
What is FIH's idea behind this push for Hockey5s?
The idea is really to have an assertive format actually of our sport. You have 11-a-side, you have indoor (hockey) already existing in some of the countries. But for us it's really an assertive format which will actually also allow certain smaller countries, or countries that are not developed in hockey, to also come and compete in international competitions. We have seen Uruguay coming and winning games, Poland coming and winning games. All of that will be extremely important for hockey so that other countries can also be in international competitions.
It's also a really good format to use for development purposes, to introduce hockey in general because the surface installation is much easier, it's cheaper, it's smaller. It also can be used in schools, can be installed in cities. That's what we are looking to do.
Doesn't what you said above in a way mean that any new country joining the sport will not invest in 11-a-side hockey and just push for the Hockey5s? How do you address that?
You have certain nations or countries or areas in certain countries where you don't have hockey at all. So the five-a-side (format) for me is the best way to get it started, and I'm convinced that once kids play five-a-side, once kids look at an 11-a-side competition at the Olympics or the World Cups, it's automatic that this (11-a-side) will also come (to those countries who don't play hockey currently). I don't think it's just like people will decide only for 5s, but for me it's the best way to start in areas where hockey is currently not played at all or not even known today.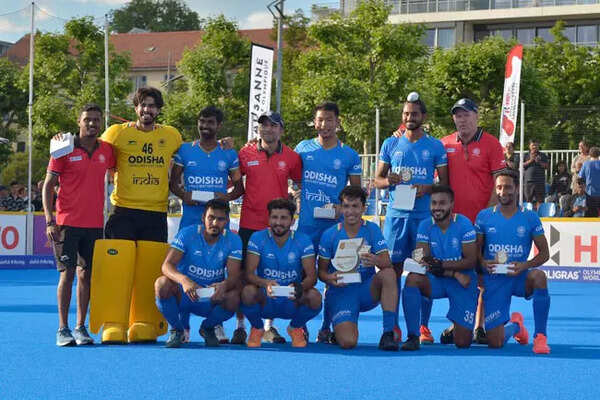 Image credit: Hockey India
The purists who follow the sport believe the push for Hockey5s will kill the traditional 11-a-side hockey…
I know there have been many changes done for good reasons in 11-a-side hockey, adaptations being done; But Hockey5s will not be replacing 11-a-side, will not kill it. The best proof is when you talk to the players after they have played this tournament. They all enjoyed it. But that doesn't mean that those players will not continue to play the 11-a-side format. Maybe some countries are afraid to lose a little bit of their dominance in hockey itself, but it will help (other) countries to come up and also to participate.
For example, having now planned the Hockey5s World Cup in 2024, there will be qualifiers and potentially that will be (a chance for the) players who otherwise would not have the opportunity to play on international level because they, maybe, are not selected for the 11-a-side national team.
I just saw an article from Belgium that they are now completely promoting and starting Hockey5s for that reason, to give players who are not selected in the national Team-A another chance to play at the international level through Hockey5s and participate and get better. I'm sure this will be an exchange between the two different competitions.
The sport has been on the Olympic chopping block in the past. So, many believe this new format has been introduced so that hockey survives at the Olympics as purely a Hockey5s discipline…
For me, it's clear. Hockey5s will not replace 11-a-side hockey (at the Olympics). The reason why it had been on the gray list in 2013 was for different reasons, because hockey was not played on the international level regularly. That's why we have introduced the Pro League to have international games on a consistent basis through the season, and not only World Cups every four years. That was the request from the IOC (International Olympic Committee). You say it's unlikely (that the two formats can co-exist), but other sports have proven and have shown that you can have two disciplines in the Olympics.
For me, the aim is to stay in the Olympics with 11-a-side. That's clear. We already have confirmation on LA (2028 Olympics)…But if we could potentially add Hockey5s in the Olympics at a certain stage, what it means will be additional medals, potentially more support from national Olympic committees, and it will mean more athletes who can compete at the Olympics, which is a dream of every single athlete.
So for me, this kind of fear that Hockey5s will replace 11-a-side hockey at the Olympics is not there at all. Again, if we now do a good job on Hockey5s, if this will be accepted, if the young generation will love it, I'm sure we can have a discussion with the IOC if this can be added (to the Olympic program) in addition to 11-a-side hockey.
It may or may not flourish but at this stage, I would take it happily. For all those saying it doesn't require skil… https://t.co/W3EujVzuqx

— Harpreet Lamba (@HarpreetLamba88) 1654451401000
You mentioned an increased number of hockey medals at the Olympics and two formats coexisting, but that could have been done with indoor hockey also. Then why did we need another format?
We can only talk about potentially this being considered to go into the Olympics if this format really generates fans and players so that there is a huge demand and fan base around it. Now what we need to do is we need to do the right job. Could that have been done with indoor (format)? Potentially yes. But I'm not sure how many countries would go for indoor hockey because it means you need to have indoor installations (infrastructure) and facilities.
But to start Hockey5s on a developmental level or youth level, you literally need just a square of 10m x 40m or 15m x 30m, something like that. And this can be played on any flat surface; we do not need to have turf there.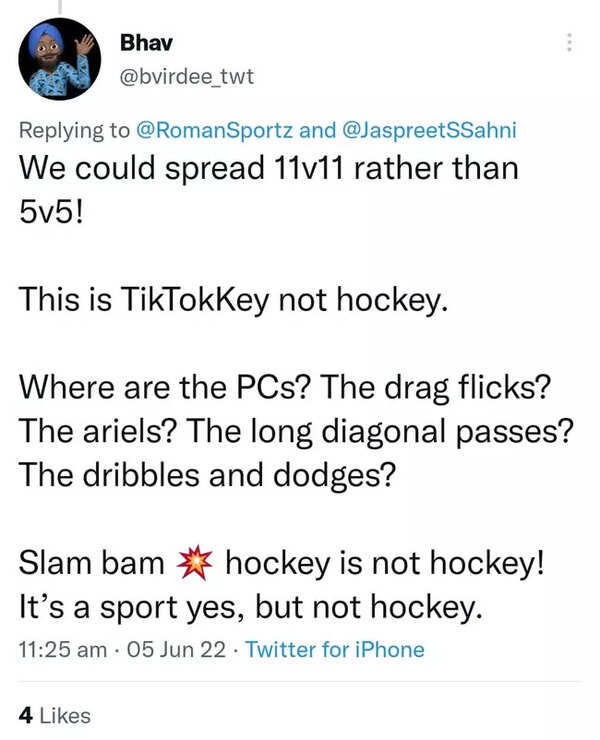 The scheduling of this two-day Hockey5s event collided with Pro League games involving Spain, South Africa, England, Netherlands, China. Don't you think it undercut the interest of the Pro League?
Not at all. You know that this event (Hockey5s) was planned last year, but it had to be postponed because of COVID, and the only weekend we could find with Lausanne within the city this year was actually this weekend (June 4-5). So this will not happen again, that it overlaps with Pro League (fixtures). But as many things have been postponed and many elements had to be rescheduled, it was either we have it this weekend or we don't have anything this year again in Lausanne. Therefore, we decided that it's not ideal, but we went (ahead with it).
But that doesn't general (Pro League) at all because it has the best teams playing against each other. So again, that is purely based on the fact that we had to postpone the event last year and this was the only available date this year in Lausanne.
To wrap up, let me ask you again, in a straight manner, what many fear: Will either at Paris 2024 or LA 2028 Hockey 5s replace 11-a-side hockey?
No, not at all. There's not even a question about it. We are completely in the planning phase for Paris 2024. We already have the setup, the installation (infrastructure), the maps. The groundwork has already started to install four fields for 11-a-side, and we have also already started discussions with LA 2028. So no, no worries to have.
.