NEW DELHI: Ahead of an international series, state associations hire top domestic bowlers to bowl to both the home and away players to prepare them for the upcoming series.
Yatish Singh, an 18-year-old off-spinning all-rounder from the Delhi Under-19 team, was called up to bowl to India and South Africa players in the recently-concluded T20I series.
Yatish was having lunch with his mother when he got a call from a Delhi & District Cricket Association (DDCA) official to tell him that he had been picked as a net bowler and would be bowling to both Indian and South African batsmen. The 18-year-old was elated but he knew the task was a challenging one, especially for someone who was still playing junior level cricket.
Sleepless nights, thoughts of being hammered by the batters, especially by the likes of Rishabh Pant and Shreyas Iyer, being pulled up by the legendary Rahul Dravid – these thoughts followed Yatish around after the call from the DDCA official. He was called three days before the series and was explained the dos and the don'ts.
Yatish found his name in almost every net session itinerary as he was the only off-spinner in the lot. He was part of the Delhi Under-19 cricket team and had represented the state in the Cooch Behar Trophy and Vinoo Mankad Trophy and had impressed everyone with his off-spin.
Yatish Singh
The Delhi-lad was one of six net bowlers picked to prepare the Indian and South African batters – apart from Yatish there were two right-arm pacers, one leg spinner and two left-arm pacers.
"I was really happy when I got the call for the net bowler duty. It was a big assignment for someone who has just started his domestic career. It was a big opportunity for me. The environment of the Indian dressing room was amazing. All The players were very cooperative. They told me what I was doing right and wrong," Yatish told TimesofIndia.com in an exclusive interview.
FIRST DAY IN THE OFFICE
'What deliveries should I bowl to Rishabh Pant?', 'What if I get tonked for sixes?', 'What if I am not able to bowl in the right areas?', 'Will I be able to impress everyone?', 'Will David sir be impressed?' – These thoughts were hovering like dark clouds over the net bowler's head as he waited for his turn, sitting in the waiting area at the reception. Suddenly a man comes in and shouts 'who is Yatish Singh'? The youngster raised his hand.
He was taken to a room and saw Rahul Dravid sitting there. Yatish was awestruck. Batting coach Vikram Rathour was going through some papers.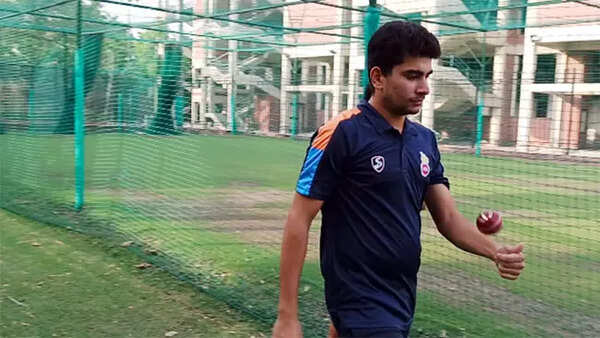 Yatish Singh
Dravid, Rathore and other staff members of the team started explaining to Yatish what his duties would be as a net bowler. All Yatish, not being able to relax, could say was – 'yes sir'. Yatish was asked to practice for two days and then join the South African team nets and then the Indian team nets.
On the itinerary board, Yatish's name was written against almost every batter, thanks to him being the only off-spinner in the lot. Yatish and the other selected net bowlers practiced for two days and then joined the South African team nets. He had been given a list prior to this. The list had the names of the South African batters Yatish was assigned to bowl to.
Yatish began watching their batting videos. He had a notebook and jotted down the areas where he would be bowling to each batter.
The net bowler from Delhi had watched the South African players on TV and it was the first time he was going to meet them. He knew the superstars would play the inexperienced net bowlers with ease, but he wanted to make an impression.
After two days, Yatish was ready for the main assignment and was given a box of balls and a dedicated net. He started bowling to them at 4pm and bowled till 9 pm, which included a couple of breaks.
He was assigned to bowl to the likes of SA captain Temba Bavuma, Aiden Markram, David Miller, Heinrich Klaasen, Quinton de Kock and Kagiso Rabada.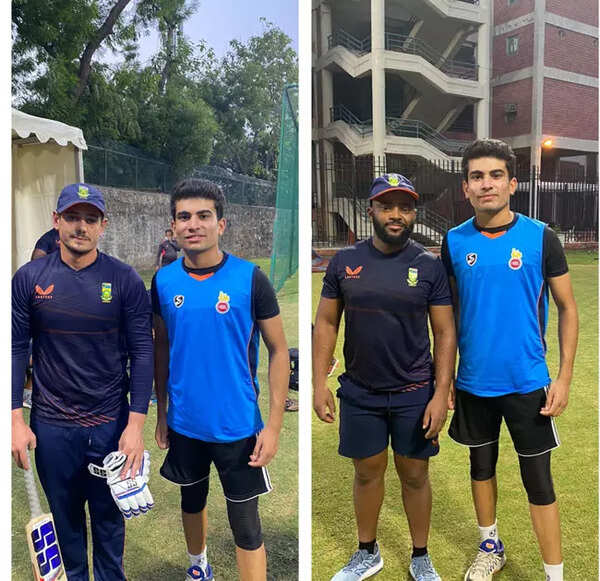 Yatish with Quinton de Kock and Temba Bavuma
There were smiles all round when he managed to hit Aiden Markram and David Miller's stumps.
"I did have goosebumps, but I managed to handle the nerves quite well (laughs). I bowled to South Africa captain Temba Bavuma, Quinton de Kock, David Miller, Aiden Markram, Heinrich Klaasen, and Kagiso Rabada. I have watched these stars on television screens but meeting them and bowling to them for the first time in my life was a huge thing for me. They were so muscular. They were hitting the ball with ease. I took tips from each one of them," Yatish further told TimesofIndia.com.
"I was given time slots for a particular batsman and the number of overs to bowl to them. I had to cover it all in a day's time. They didn't ask us to bowl a particular delivery. All I was asked was to bowl. as long as possible to a batsman and then shift to another. I dismissed (bowled) Markram and Miller. I dismissed South African players more than the Indian players bowl. Rabada was really happy with my 18 year old further shared with TimesofIndia .com.
MEETING TEAM INDIA MEMBERS
Finally, the day that Yatish had been waiting for arrived. He reached the stadium early, stood at the gate and waited for the Indian cricket team to arrive.
When the bus came in, he took out his phone, made a video and said hello to everyone. He rushed to the room where the team management members were sitting and collected his itinerary. The list of batters he had to bowl to had the likes of Rishabh Pant, Venkatesh Iyer, Hardik Pandya, Kuldeep Yadav and Shreyas Iyer. He kissed that list, kept it in his pocket, and went straight to the ground.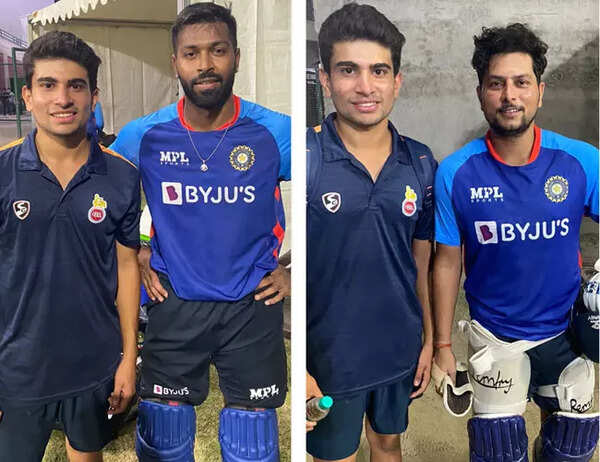 Yatish Singh with Hardik Pandya and Kuldeep Yadav
He was instructed to bowl for two hours to Pant and then an hour each to other batsmen.
He had done his homework and had prepared himself for this assignment just like he did for the assignment to bowl to the South African baters. The preparations were the same but the excitement was sky-high. After all, he was meeting his favorite star and senior player from Delhi – Rishabh Pant.
The moment he put his finger on the seam of the ball and bent his arm, Dravid came and stood beside him. He bowled a wicket-to-wicket delivery which Pant defended.
'Good job' – Dravid said in response to the delivery Yatish had bowled.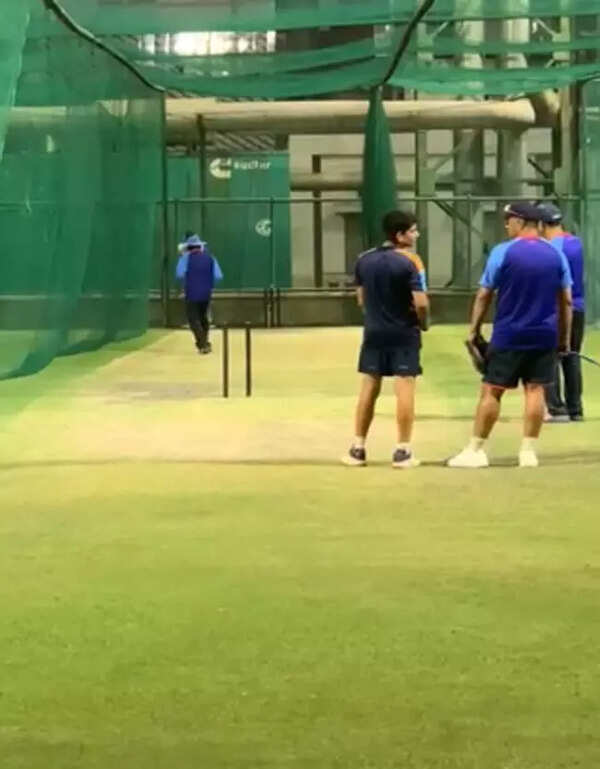 Yatish Singh with Rahul Dravid
"I was nervous and happy at the same time when I saw Rahul sir standing beside me. After the over, he asked about my background, my age, domestic experience, etc. It was a lovely and memorable experience with the legend. I bowled to Rishabh Pant, Hardik Pandya, Venkatesh Iyer, Shreyas Iyer, and Kuldeep Yadav during the nets. They told me about the areas where I had to bowl. After every delivery, Rishabh bhaiya gave me feedback," Yatish said.
"I asked Dravid sir and Vikram Rathore sir about my bowling. They gave me tips and feedback about my bowling. It was my childhood dream to interact with Rahul Dravid sir once. And it came true. I am so happy," the youngster further told TimesofIndia.com.
WHAT NEXT FOR YATISH?
After an impressive net bowling assignment, gaining confidence, bowling to star players, Yatish is eager to continue working on his game and hopes to make it to the Indian Premier League next season.
"IPL has helped a lot of cricketers. Bowling to players from all round the world will help me take my game to another level. I hope I am picked by an IPL team next season," he said.
FROM AN OVERWEIGHT KID TO A FIT CRICKETER
Yatish is a bowling all-rounder but he takes inspiration from India batting stalwart Virat Kohli.
Yatish had quite the physical transformation and went from being an overweight kid to a fit cricketer. He gives credit for that to Deepak Surya, strength and conditioning coach at the DDCA.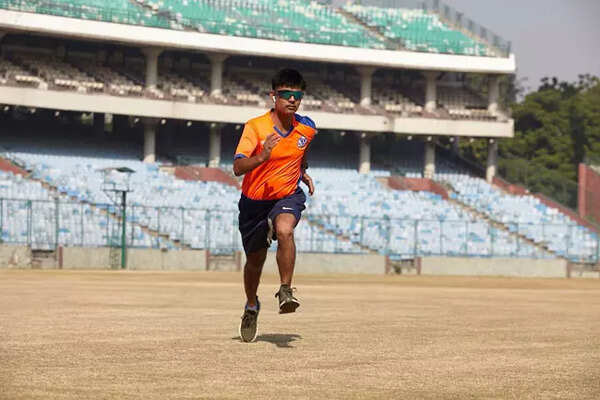 Deepak Surya
Deepak also worked at the NCA and conducted several rehab programs under the then-Director of NCA, Rahul Dravid. Yatish takes coaching from former India cricketer Ajay Sharma.
"It was Deepak sir who helped me reduce my weight and made me fit for the game. He helped me in this big transformation. He was the one who motivated me and made me that nothing is impossible in life. He makes training programs for me. He gives me different exercises to do. I managed to bowl long spells at the nets without asking for a break just because of him," he said.
"Deepak sir is not just a coach or instructor; he is a great motivator also. My coach Ajay Sharma has also helped me a lot and groomed me as a cricketer," Yatish signed off.
.